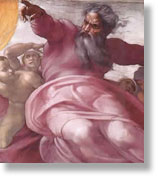 Most depictions of God in art throughout church history have imagined a distant and exalted older man, often with a look of anger in his eye. Interestingly enough, most depictions of Jesus (except when he is clearing the temple), show him in softer and more compassionate moments. If Jesus was the exact representation of the Father's nature, why do so many people see their demeanor so differently.
Most images I had of God growing up were scary. They were never engaging or inviting. Jesus, was the good guy. He'd fixed things with Father, or so I was told, but that didn't make him any less scary. If I was going to be around God, I wanted to be hiding behind Jesus' robes.
Paul, however, had no such image of God. He understood that the cross fundamentally changed how we get to view God—no longer as terrifying judge, but now for who he really is, Abba Father. "For you did not receive a spirit that makes you a slave again to fear, but you received the Spirit of sonship. And by him we cry, "Abba, Father." (Romans 8:15) As I've said many times, Abba is the safe connection a little child has with his or her dad.
After our Mother's Day family get-together, my daughter sent me this picture. I don't know when she took it. It's a tender moment between my granddaughter, Aimee, and me. When I saw it, my heart leapt, not only because I loved having that moment captured in a photo, but because it drew me to think of my own relationship with God the Father. This picture screams Abba, even though I'm not really her dad! This is the image Jesus died to secure in our hearts—Father's lap is the safest place for us to be, even at our most broken.
When you consider God's demeanor toward you, I hope you something like the image below in mind, rather than the one above. If not, there's more work for his Spirit to do in you. And I pray he does it.