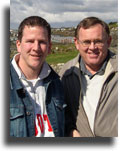 Patrick (that's him and me at left on the bluffs outside Kinsale) got in on Saturday night in Tralee and we spent the evening continuing our discussion on the cross and met in the morning with some of the saints in Tralee for a wonderful time of fellowship and then some goodbyes as we headed off toward Cork.
When we first sat down to table in Cork on Sunday afternoon three continents were represented. Along with these two Americans we were joined by an Irish woman and her Australian husband. When we got to the meeting later that night we were also joined by people from Nigeria, Zimbabwe and the Philippines. Isn't Father's family the most amazing thing? From every tribe, tongue and people and nation he is calling us together to live as his children in the earth. We had an awesome sense that we were getting a taste of that reality in Cork.
We gathered in a wonderful home ovelooking Cork City and shared about Father's invitation into an intimate friendship with him and how we live that out, not by our human effort, but by learning how to rely on him. The people were incredibly gracious with us and opened their hearts wide to us.
I'm sorry it has taken so long to get this posted, but I've had a host of computer problems here which has limited my access. Then yesterday on the train to Drogheda while I was typing the next blog my computer screen suddenly went on the frtiz. The screen suddenly had some nasty lines shoot through it and now it will not boot up at all. Can you believe it? The computer is just 2 months out of warranty, so we hope the problem is not major. We're going to have someone look at it tomorrow in Dublin, but in the meantime we've had to live off of other people's computers.
After an incredible train ride we have arrived in Drogheda north of Dublin where a group of brothers and sisters have been meeting in homes together for some time. We had some time last night to focus on how we will not be able to love others freely until we allow ourselves to be loved deeply the way Father loves us. We cannot give what we have not received.
The real stories of the last few days, however, is the opportunities we've had with individuals who were at moments of breakthrough in various aspects of their spiritual lives. I can't give you the details of those, but it is an awesome thing to see how Jesus touches people with an individuality that bears great testimony to his incredible nature.
In contrast to that we are in an area now where the Protestant/British conflict with the Catholic/Irish have resulted in thousands of deaths over hundreds of years. We've read stories of those who prepared for battle through prayer and worship only to go out and slaughter the opposition, seize their lands and torture any survivors. It is a sobering reminder that the greatest atrocities of humanity have come from religious people who thought their cause was sanctioned by God and they thought that killing their opponents was a great cause to celebrate before God. It has bred deep-seated and long-enduring resentment between people and it is no wonder people reject the gospel when it has been used to such horrible ends.
May God reveal his power, love and glory and deomonstrate to the world that he is the awesome God and loving Father that invites his children into love and live and freedom.
I'll try to post again in a couple of days if computers and connections allow…. Tomorrow (Thursday) Patrick and `i head into Dublin for the weekend and the last leg of our incredible adventure in Ireland.