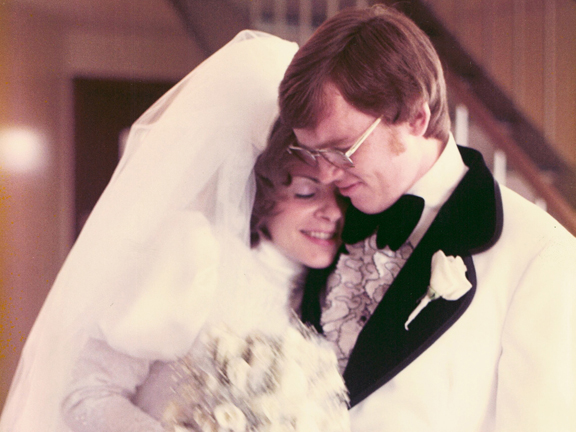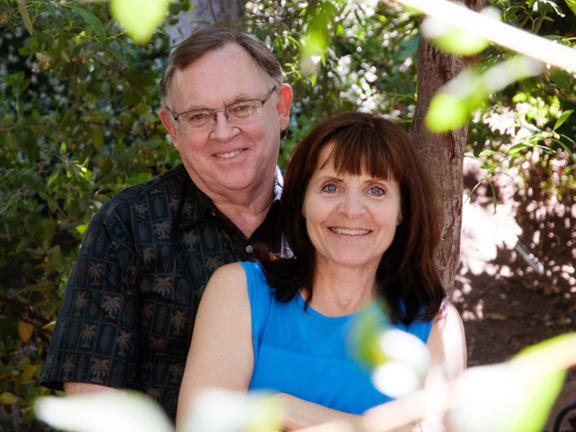 What happened between these two photos?
Life! Forty years of it, that transformed two naïve lovers into a couple that really gets each other and who are still celebrating an ever-deepening love and appreciation of each other.
It's amazing what forty years and tons of grace will do. Through those years we've celebrated together with overwhelming joys and cried together though mind-numbing sorrow; we've known the drudgery of mundane days and the simple pleasures of long walks, deep conversation and hilarious laughter that would have made sense to no one but us; we've fought with each other and our own frailties enduring seasons of frustration that seemed so dark; and at every turn and we've discovered things about each other that only made them more endearing.
The one constant has been that we've always found our way to each other as our affection has grown. The idealism of our youth has been forged by time, circumstance, and no small measure of grace into an ever more precious treasure that we savor today with the contentedness only long-term love can know. We are far different people than we were when we started out, but what we have become wouldn't be possible with out the other—their patience, their perseverance, and their love.
I have great memories of that college sweetheart I married 40 years ago, but I wouldn't trade her for the woman she has become. She is so much more a complete human being and an absolute delight to share life with.
Sara, on our 40th anniversary, I want you to know how much I adore you for all the beauty and joy you've added to my world; how much I admire you for your wisdom and all that you have faced and overcome, and I appreciate you being faithful to every promise we made so long ago. I could not imagine having lived my life without you. You are the most important ingredient in everything I've done. None of it would have happened without your support, friendship, and love.
You are the greatest gift God has put in my life and I will love you more each day we have together.