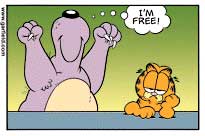 There was an interesting juxtaposition in our local paper this past Sunday. I don't know how many of you saw Sunday's Garfield comic but it made a great point. Garfield, for those that don't know is an overweight cat with food always on his mind. In Sunday's strip he is sitting at a table with a bear that is exhilarated having just escaped from the zoo. He throws his arms up in the air shouting, "I'm free!†A "Yahoo†and a "Yippee†later he is already looking a bit unsettled. Finally in the last panel he says, "Well gotta get back its feeding time.â€
Sound familiar? That's what the children of Israel wanted to do. They had been delivered from bondage in Egypt and were on their way to the promised land eating manna every morning. They soon grew bored with it and complained that they were better off as slaves in Egypt with three meals every day than depending on God to provide each meal for them. I guess that's why bondage works so well. At least you get fed!
A section or two over from our comics on Sunday was an article about pet myths. One of the myths they debunked is that cats can survive in the wild. The article said once wild animals have been domesticated they lose their ability to survive in the wild.
The comic strip and the article said a mouthful. We'll never really be free until we learn how to feed from Jesus ourselves (John 6) and not think we're dependent on anyone else. Abusive religious institutions through history have maintained their captive audience by convincing people that they are the place where believers 'get fed.' Regrettably they have convinced many that is so and instead of learning the joy of freedom that can only come when Jesus becomes our soul source of life and provision for things spiritual as well as physical. Over the years on this journey I've met many people who wanted to leave an abusive system but couldn't, because they don't know how they will be fed spiritually. And I've known many pastors who wanted to leave such systems but couldn't because they didn't know how else they could make a living.
I guess this much is true. Until we learn to feed on Jesus himself, we'll be the captive of anyone who pretends to do it for us.