Many of you know I spent twenty-five years as a consultant and mediator in helping groups at odds with each other to stake out the common ground. What began in public education with conflicts over issues of religious liberty, expanded into some wide-ranging areas where I found ways to help people with differing agendas work together beyond their deepest differences. I started a service called BridgeBuilders to help make myself available. What started out as a passion, turned into a tent-making opportunity as I left pastoring, and then into a peacemaking vocation as I worked across the U.S. and even on some issues in Washington, DC.
I was fully unqualified to do it. I got involved simply as a parent volunteer in my own child's public school. Serving there, I was referred to other committees in the district dealing with complicated issues and discovered I could help people find mutually-satisfying resolutions. My district began to invite me to help in difficult arenas helping resolve the concerns of religious parents in an increasingly diverse school environment.  Then, they began to refer me to other districts, then to education groups, finally I found myself speaking at education conventions and helping resolve tensions in Washington, DC.  God not only gave me favor with people I worked with, but he also provided a wealth of resources and connections to help people find a common good greater than their own agenda.
This was not about helping people compromise, but to create an environment where a consensus could emerge that diverse parties could embrace wholeheartedly. I came to appreciate the civic value of embracing other people's stories, even when their conclusions didn't fit my own. I discovered it fit theirs, and I became a richer person for understanding their point of view. And I got to be in numerous rooms where angry, polarized people began to discover a way to listen to each other and craft policies that were fair to each other, not use government power to get their way at the expense of others. Peacemaking is nothing more than giving other peoples' consciences the same respect we want for our own
In the aftermath of all things related to The Shack, however, I no longer had time to keep up with BridgeBuilders and let it go. Over those years, however, I have been deeply troubled by the growing animosity and fear in our national dialog. It seemed everyone profited more by tearing our social fabric apart rather than working for a greater common good and that our political parties lost the will to seek national good above party interests.  In 2014, the well-known Pew Research Center released a report called Political Polarization in the American Republic that documents the growing discord in our nation. It concluded that "Republicans and Democrats are more divided along ideological lines – and partisan antipathy is deeper and more extensive – than at any point in the last two decades. These trends manifest themselves in myriad ways, both in politics and in everyday life." This was before the 2016 election and the attempts of the Russians to further polarize us. Today 92% of Republicans are to the right of the median Democrat, and 94% of Democrats are to the left of the median Republican. Pew further found that, "partisan animosity has increased substantially over the same period. In each party, the share with a highly negative view of the opposing party has more than doubled since 1994. Most of these intense partisans believe the opposing party's policies "are so misguided that they threaten the nation's well-being."
Then last summer I sensed a change in the wind. A year ago I was approached about doing something on BridgeBuilders for a TEDx talk at Abilene Christian University. In November I was contacted about helping write a book tentatively titled, The Language of Healing, to help people discover a different way of communicating, especially with people who don't share their point of view. We had a third person involved, a former mayor of a large California city, but in the end she had to bow out. We asked God for another person who could offer a woman's perspective as well as one from a different ethnic group. Two weeks ago while I was in Dallas, just such a person walked into one of our conversations. I loved how she talked about God, the struggles in our culture to truly understand each other, and how she handled some of the conversation about the racial divide in America. That has started a conversation to explore adding her to our team and this week we are flying out to Dallas to see if we can find a way to write this book together.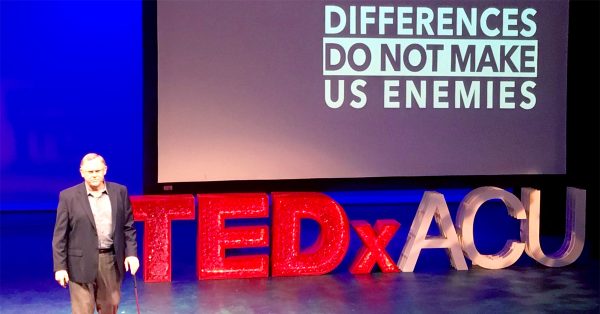 In the meantime my TEDx talk, Differences Don't Make Us Enemies, was well-received and even motivated two students to approach me afterwards about an internship with BridgeBuilders. I explained to them that BridgeBuilders is nothing more than me, but that I appreciated their enthusiasm. I was also approached by a university executive that wanted to talk to me and pursue the possibility about helping their staff navigate a controversial issue, which I will also be doing next week.
I have no idea where any of this will lead. I do however feel led once again to follow the rabbit trail and see if it leads anywhere.  I've resurrected and updated our BridgeBuilders website. You're invited to come take a look, and pass it on if you feel others you know might benefit from the information there. Helping our culture re-discover the common ground is more of an uphill climb than it was 25 years ago when God first nudged me this direction. The animosity is much greater in our culture and there are so many who profit from stoking the fires of animosity.  Our politicians have no interest in solving our problems, only enhancing their party's power. The media know that conflict sells far better than reasonable people struggling for broad-based solutions. Advocacy groups raise funds by raising fears that anyone who disagrees with them is out to destroy the America they hold dear. From the halls of Congress, the offices of 1600 Pennsylvania Ave, and the studios of newsrooms our political rhetoric has sunk to all-time lows.
But I also sense that a significant number of Americans are tired of the polarization and paralysis of our leaders. My observation is that 10-12% on either end of the political spectrum value the animosity and conflict but that the vast majority of Americans are sick and tired of it. Unfortunately our culture does not yet provide a venue for reasonable people to come together and find the common ground solutions that can ensure progress on immigration, black lives matter, the deficit, health care, or school safety. We can't even mention them in social media without unleashing a torrent of angry opinions on both sides of those issues.
To find the common ground we don't have to change the way people think about the issues, we only have to change the conversation. Instead of seeking the government's power to take my side over my neighbor's, we instead look for government to be an honest broker of a common good. We can show respect to those who disagree with us, listen carefully to their concerns and ideas, and look for policies that not only address my concerns, but theirs as well. To me that's the hard work of a democratic republic and one desperately needed in our time.
I have no illusions that this conversation will begin in the halls of Washington, DC or in our statehouses. They will begin in our families and among our friends. If we can talk to each other more open-heartedly, there's no telling how we can change the course of America and help advance the ideal of a "more perfect union," at least more perfect than it has been in previous generations.