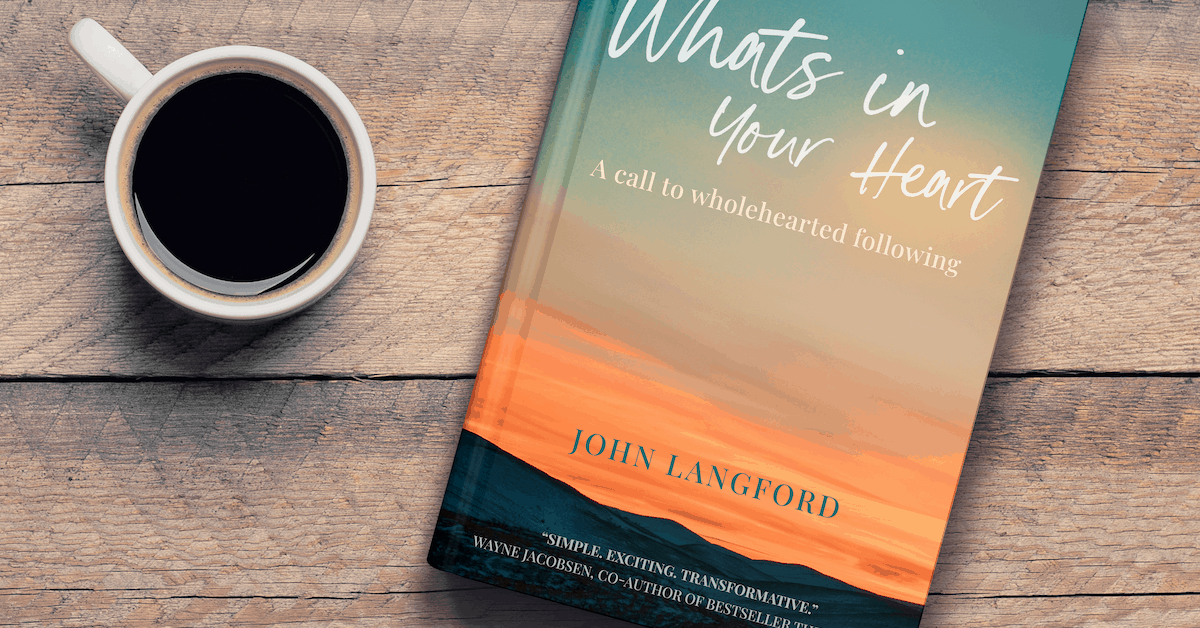 I've known John and his wife Jenny for almost twenty years. Transplanted to England from South Africa, we met them through our friends in Ireland and have enjoyed many rich times of fellowship with them. He's just published a new book and one that I think many of you will enjoy.
It's called What's in Your Heart. It is subtitled A Guide to Wholehearted Following, and I think many of you will find it a simple but profound read to help you grasp what it means to know Jesus and to follow him with a wholehearted joy that will transform the world you live in. It's a call to living within the rhythms of God's eternal life each day, an invitation to follow the calling of Jesus at home, at work, in the marketplace, and a reminder that when he calls us he says, "We can do this together!"
John shared this book with me when he was still writing it and I'm so excited it is now available.  It will help you walk free of religious obligation, ritual, and routine as you discover God's vast world of grace and unseen dimensions. Here's what I wrote as an endorsement for the book:
Simple. Exciting. Transformative. If you're looking for a guide to help you understand what a whole-hearted relationship with Jesus looks like in the practicality of everyday life, you need look no further than What's in Your Heart.  This book can help you discover what Father has already put in your heart, and show you how to live in that joy. John Langford will steer you away from the pretensions of religious thinking, so you can truly live a life worthy of Jesus' love and his purpose in the world. I can imagine no one better to write this; he lives every word and has for the twenty years I've known him.
Interestingly enough, John and I recorded a podcast together at The God Journey by the same name. You can listen to it here. Some of my favorite people in the world are those whose trajectory in their life with Jesus has steadily trended upward, where he has made difficult decisions with God's heart in mind not pursuing what is easy or popular.
This is a book you could give to a new person just starting on a Jesus journey, and one you could share with a seasoned saint and they would be encouraged as well to those things of first importance.
You can find out more about this book on John's website, His Life. It is also available on Amazon for the United States and on Amazon in the U.K.
Here's an excerpt from What's in Your Heart:
It had been a long day as I settled into bed. I leafed through The Book and turned to the story of God's conversation with Moses, "Send some men to explore the land of Canaan, which I am giving to the Israelites."  My mind had been captivated once again just as it had been over a period of days by the Israelite journey from slavery in Egypt to their promised freedom. They stood, so to speak on the threshold of a new beginning for themselves in Canaan with God. I started reading the well-known narrative about the spies and their role in moving from fulfilment to frustration as they debated the pros and cons of entering the land promised to them by God.  The Lord had instructed Moses to appoint leaders from each of the tribes represented to travel into Canaan. The twelve were sent to explore this land which God had chosen to give to His people.

As I read the story, I reflected on the lead up to this stage of the saga. The supernatural power of God demonstrated throughout the Israelite journey from the plagues in Egypt to the rolling back of the Red Sea and the incredible daily provision for this beloved people. As I continued to read my expectation began to rise like a symphony drawing to the conclusion of this incredible drama of deliverance. But alas, when the spies return from their reconnaissance the harmony drops off as the leaders are divided. Caleb and Joshua have no doubt whatsoever that God has given them this land promised as their inheritance. The other ten spies were not having it. We, of course know the outcome of this tragic story. Slightly heavy hearted I closed The Book and reached to turn out my bedside lamp.

Suddenly and completely unexpected, I heard the tender voice that I have come to know and trust. What I heard at that moment was probably one of the most significant words from the Lord I have had the privilege to hear. His voice firm yet tender spoke into my heart with such clarity. "You know why the Israelites did not go into the land don't you?"

And, before I could answer, He replied to His own question. "Because it was not in their hearts!"