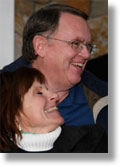 We're not much on big New Year celebrations around here, in fact we went to bed at 10:00 last night. But we know lots of people who are into it, so Sara and I want to bless you with a full and rich new year ahead.
And to do that, instead of pressuring yourself with all that you want to do to make your life better this year, perhaps you'd consider asking God what he is doing to make his life more real in you. Transformation begins with his will and desire, not ours.
And then you'll realize what God knows. Transformation is not his goal, it is merely the fruit of living loved by him. His goal is not to change you, it is to invite you into his love, Change will happen as the fruit of that, not the goal!
What I love about God is that he doesn't mark time on calendars and offer a fresh start once a year. His mercies are new every morning, so that each day is a fresh start in his life and grace.
(And if you want to see the many faces of Wayne and Brad while recording The God Journey, you might check out our new photos over there!)