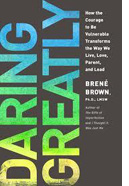 Sara and I have just finished Dr. Brené Brown's latest book, Daring Greatly. In all honesty, we did not enjoy it near as much as her second bookThe Gifts of Imperfection, which was more tightly written and seemed less like a publisher-motivated book to keep the franchise alive. Nonetheless this one had some great moments in it.
In one chapter she is dealing with the difference between true belonging with others and simply fitting in. She concludes that merely trying to fit in is one of the greatest barriers to really belonging. "Fitting in is about assessing a situation and becoming who you need to be in order to be accepted. Belonging, on the other hand doesn't requires us to change who we are; it requires us to be who we are." (Emphasis hers.)
Her words directly apply to how we can foster community among those who want to share a journey of faith and why conformity-based environments can only provide an illusion of community, but not its reality. Conformity groups set an ideal and ask people to pretend that's what they are to fit in. They feel threatened by people's honest questions and struggles and will often penalize or marginalize those who don't do what they are expected. Real community, however, creates a safe place for people to be authentic and would rather celebrate in the struggle rather than force them to act better.
Once Dr. Brown asked a large group of eighth graders to break into small teams and to come up with the difference between fitting into a group and belonging to a group. What they came up with surprised her with their simplicity and insight:
Belonging is being somewhere where you want to be, and they want you. Fitting in is being somewhere you really want to be, but they don't care one way or the other.
Belonging is being accepted for you. Fitting in is being accepted for being like everyone else.
I get to be me if I belong. I have to be like you to fit in.
How amazing that 13 and 14 year-olds would already know the difference, even though they admitted that they had few places they really felt like they could belong. The people with whom you share true community are those who love you where you are and see no value in making you pretend to be anything different. That's where real love can be expressed and the incubator in which real transformation can take place.
How do you find a group like that? I know thousands of people who are looking for one. But the key is not to find a group like that so much as it is to be a person like that. When you can help others find a safe place for their struggle, you'll find a safe place for yours as well.