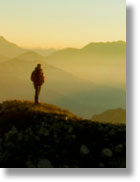 Many of you know that last week I attended the funeral of a dear friend with whom I've shared 35 years of this journey. Out of the blue he was diagnosed with leukemia in February and died three weeks later. His passing was quick and shocking and surprisingly filled with triumph!
Sara and I went to visit he and his wife a two weeks before he died. He had been busy meeting individually with all his children and grandchildren sharing the things from his hospital bed that he wanted them to know, and owning in confession some of his less-than-stellar moments when he'd tried to manipulate them with his religious passions. By all accounts everyone was deeply touched and much healing came to that family. One granddaughter said at his funeral that Buck had taught her how not to fear death when it comes, but embrace it as an entry into the fullness of God's presence. That was pretty cool.
Our last day with Buck was equally triumphant. We shared about his journey and how much we had meant to each other. We all prayed together and God's presence powerfully came into that room. A couple of hours later he was visibly stronger and said he felt better. I wondered if Father had healed him and that his symptoms would soon recede and he would have some more years to be among us. But it was not to be.
A week later his son told me that his father's health was rapidly deteriorating and they didn't think he'd make it another week. I was surprised and prayed again for Buck. Since he was only 69, I thought it would be great if God could have extended his life a few more years.
The next thought that crossed my mind shocked me in both its clarity and its content. "I already gave him fifteen more years than he was supposed to have." Over the days that passed that thought continued to come to mind and somehow it brought peace to my heart. As I drove up to his funeral I thought about it again. I knew he'd had a heart attack at some point years before, but didn't now how serious it was because we were living far apart at the time and weren't really in touch with each other.
When I got to the service i asked his son how long ago the heart attack had been. He thought it had been 13 or 14 years. I asked him if it had been somewhat routine or if he'd come close to dying. He told me that the doctors were shocked he'd survived. The heart attack was severe and he was in a remote area. They airlifted him to a hospital that could care for him as a desperate attempt but no one expected him to survive. He ended up making it to the hospital and had a touch-and-go quintuple bypass. Everyone was amazed that he had lived through it.
At the funeral I shared what I felt God had said to me as I prayed for Buck, that he had extended his life by fifteen years. I was watching his wife at the time as she nodded vigorously and mouthed the words, "That's right!" i went on to share that God had already extended his life as a gift to his wife and as a gift to Buck. There are things God wanted Buck to know about him in this life.
A few years after Buck's heart attack, they moved to Ventura County to live near Sara and me. At the time he was depressed over some vocational hopes that had soured. He was angry at God feeling like God had not come through for him as he hoped. Over the next eight years we learned to walk together in the love of the Father. His circumstances were not proof that God didn't care about him, but that God was working in the midst of those things to draw Buck closer to himself. Those eight years were a real gift to both of us, as we sorted out God's love together and learned to live in it even with the uncertainty of the future. Buck and his wife moved back to Northern California to be near family. At the hospital I had seen the fruit of learning to live loved. Even in the valley of the shadow of death and in great pain, Buck was fully confident of God's love for him and looked forward to being in the fullness of his presence.
After the funeral I stole a few moments with his wife. "What do you know about those fifteen years?" I asked her.
She smiled. "When I brought him home from the hospital after he'd survived his heart attack, I knew God had done a miracle. At the time I thought God had told me he had given her husband another fifteen years of life." She'd never told anyone, not even Buck. This past November was the 15th anniversary of his heart attack, and she said she thought at the time that he would probably would not live through the next year. So when he died, she was not surprised.
Wow!
She will still miss her husband greatly, as will I, but there is something about knowing God's hand is behind all of these things that brings joy even in the midst of sorrow. I was wanting God to extend his life, not realizing he already had. He'd allowed Buck to live long enough to embrace a depth of his love that he would never have known in this life without it. He had given us all a fifteen-year gift, and Buck too.
I so appreciate Father making that revelation clear to us. It is always so much better to celebrate life as it is than to live frustrated with what might have been. I'm confident that Buck now knows what we long to see. I'm equally confident that he has a hope and a purpose for his wife in days to come. He is still at work, this amazing Father!