It's always a bittersweet experience to let go of a book to the printer that has been in your heart for so long. In one sense, you want to keep editing and fussing with it to make it perfect, and on the other you have to remember it is but a snapshot in time and at some point you have to let it go to be shared with the world. This week we sent our latest book to print. Because of the special nature of this book it will be a couple of months before we have the printed copies on hand.
Over a year and a half ago I met an award-winning artist, Murry Whiteman, who had compiled two books of paintings drawn from the Gospels. I was moved by many of them and wanted to know if the books were for sale so i could buy them for a ton of people I know for Christmas. (Some of those pictures you can see at left.) He said they weren't available yet and wanted my counsel on self-publishing them. And then he asked if I would be open to writing words to go with his art. I hesitated, unsure that I had the time or ability to write words worthy of his art, but told him I would consider it and asked if he would be open to Brad helping as well. He was.
And thus Brad and I began the task of bringing words to this art and trying to capture the reality of Jesus living in time and space as a human and experiencing all of life as we do. We finally completed that process over the weekend and soon this book will be available. It is 128 pages of art and prose that seek to illuminate Jesus and how he was truly a man like no other.
Last week on vacation I read a bit of it to my seven-year-old granddaughter as I showed her the paintings on my computer. Keep in mind that this is not a children's book. We wrote it for adults, but I hoped there would be enough here to engage Aimee in that story as well. Not only was she transfixed by the art and listened intently to each story, but so did her three-year-old sister. After each one Aimee had so many questions about Jesus, whose child he was, and why he came to this earth. Each night she was excited to read more and wouldn't let me stop on any night with just one. "Read this one," she'd say pointing to the next one.
I am incredibly excited about this book finally being completed. Couples will enjoy reading the brief vignettes as a devotional together and others might use it in their own personal study and reflection.I think it will capture people's hearts and be a discussion-starter as it sits on a home coffee table, or adorns the waiting room of an office. When we had a copy of the proposed cover sitting at a table in a restaurant as Brad, Murry, and I went over the book no one seemed able to walk by the table without zeroing in on the cover and pausing to read it.
We'll have information soon about ordering a copy of the book. I just wanted you to know it will be available soon and I think it will make a well-appreciated gift for those on your Christmas list. It is called, A MAN LIKE NO OTHER: THE ILLUSTRATED LIFE OF JESUS. It will be published by Windblown Media and will be available through our offices at Lifestream as well as many other outlets.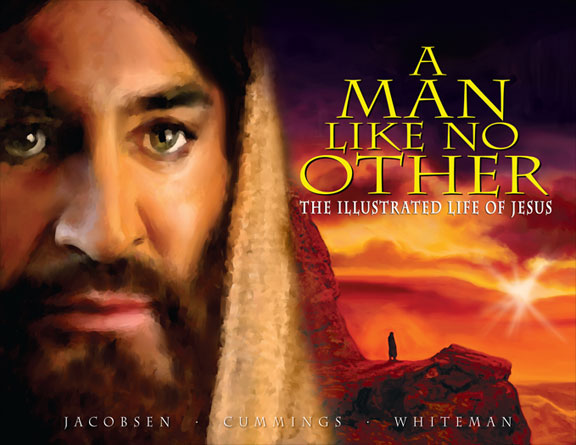 Windblown Media • Hardback • Full Color • 8.5 x 11 • 128 Pages • $24.99 • Available in October