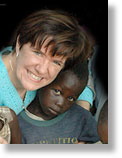 A few months ago, I posted an email written to me by Michele Perry, a Florida woman who had moved to the Sudan a couple of years before because of a leading on her heart. She rented a home there and began to take in orphans. Michele has now taken in 80 orphans and cares for them, even though she was born with only one leg. Amazing stuff.
Today she wrote me with this plea: "We really need an expert team to join us here, but the right one! Administrative servant-hearted types, construction/engineering types and medical being the top needs at present. Mature, servant leader folks who want to be a team."
So if you feel a tugging toward the Sudan or even want to send along some funds to support the work there, you can find out more at Michele's website: Change the Way You See. And if you have a moment, please hold her, the orphans and their needs before the Father. Thanks.
She also sent me an article she had written that had some wonderful thoughts in it. Here are some excerpts:
A move of transformational love is rising up to be released from every tribe and tongue and nation. Those who wield the most powerful weapon there is are arising from the hidden and unseen depths of His heartbeat. Have you seen them? The dangerous, fearless lovers of the King, who has so captured their gazes no circumstance can distract them, no obstacle deter them.

They are the unlikely ones, the burning ones, the passionate ones the world has overlooked and called foolish. What would a people look like who are fully embraced by love? What would a people become if they were totally set free to live out their own identity?

Could a people be raised up to fight hate with love, injustice with mercy, war with peace, poverty with generosity, despair with joy, striving with rest, and religion with freedom? Where are the ones that so know His heart, they carry His heartbeat everywhere they go? Where are the ones who dream bigger than the pages of history and refuse to settle for what their eyes have seen? Where are the ones who will dance through the harvest fields of the nations with their gazes locked on the eyes of Love itself?

Watch out. Here they come—life in abundance, light so bright the darkness flees before its coming and night becomes as day at the rising of His glory in and through our lives.
If that doesn't make your heart beat faster, I don't know what will! Can you imagine a people so saturated in love that they live in a way that sets the world on edge?