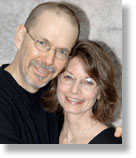 I flew home from Europe just in time to help one of my closest friends cross the threshold of life in this age into the glory of Father's house. After flying into LA late Sunday afternoon, Sara and I stopped at the house long enough to exchange luggage, get a bit of sleep and then headed to our hold home town 3 hours north of us. Paul Gutierrez was in the final stages of his battle with cancer at home with his wife, Louise. These two have been among our closest friends for the last couple of decades. I didn't think he would live until I got home, but it seems he waited for me.
Sara and I were there only two hours before it became apparent the end was near. Father had put it on my heart to read Colossians to him from THE MESSAGE, which I did. Sara, Louise and Paul's two sisters cried our way through it as his breathing slowed. So many of those verses spoke so clearly to what was going on in that room and in Father's heart. As I ended his breathing slowed appreciably. I grabbed both of his arms, told him that we all loved him and commended him to the glory of the Father. A few short breaths later he stopped breathing and shortly after his pulse stopped. He stepped across the threshold to Eternity and has finally seen him face to face for whom our souls long. I am overjoyed for him and a future day when we will join him there.
But we cried and cried with Louise. She lost her husband of 30 years and Sara and I at least for the time being lost a very close friend. We are not as those who grieve without hope, but we still grieve. We just grieve with the hope that this is not the last word and though our parting is painful a more glorious reunion yet lies ahead. If my time in Ireland was even a fleeting taste of the relationships we'll have in heaven, then that will be a grand day indeed!
For now, we will all be busy in the next few days helping with arrangements and planning Paul's memorial gathering on Saturday that I've been asked to facilitate. I honestly don't know how I'm going to get through that one.
It's a bit of a whirlwind quite honestly. I usually come home from trips quite wasted and this was no exception. My body clock is way off and I haven't had a long, deep night's sleep yet. Exhaustion just hangs at the edges of my consciousness, but I pray God holds me together through this week and does some wonderful things in family and friends as we deal with Paul's departure from this world. In the meantime I'm falling behind with everything else. Your patience and understanding will be greatly appreciated, as will your prayers….