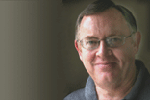 Yesterday was NOT the day to fly. When I arrived at LAX the security line was over half a mile long. No one was allowed to take any liquid or gels through security. Even bottled water purchased inside secure areas of the airport couldn't be brought on board. My flight was 25 minutes late leaving Los Angeles and I only had a 26-minute layover in Las Vegas before connecting to Minneapolis.
Fortunately my flight from there was delayed as well because the security lines in Vegas were taking people an hour and a half to get through. So I made my connection with about 10 minutes to spare. Amazingly my bags did as well. I was pretty sure they wouldn't make it, but they came spilling off the baggage conveyor to my absolute surprise. Sometimes the airlines really get it right…
This is my first time in the Minneapolis area, so I'm having a ball meeting a whole new group of folks at various stages of the journey. Many have been on my websites for months and have been reading some of my books, so this should be interesting.
A couple of things are weighing heavy on my heart these days. Recently I've heard from a couple of dear people who are abandoning God in their disillusionment over the failures of religion. I guess that's why I hate the forms of religion so much. Some people will have served the forms for so long believing them to be God, that when religion finally fails them in a critical area (as it always does), they won't be able to separate the reality of God from the falseness of religion. Tragic!
I've also heard from others who have worked religion pretty well on the outside, only to see them crash onto their own brokenness, with hidden addictions that finally ravage their life and devastate their family. While I'm always glad when such things come to light, I am always saddened by how much effort they put into working a system that only betrays them in the end. I hate that too! If we do not introduce people to the life that is in Jesus, they will only weather religion for so long, and then it will collapse on them. Hopefully they will see God beyond it.
That's my prayer. I hope these moments are just the middle of chapter, where God has yet to complete what he has set out to do in them.