Except for the stupid spam proliferating on the Internet like rats, nothing more fun than opening my email every day. Here are two back-to-back emails that I opened this afternoon. I get many emails like the first one. There is great angst out there about how organized religion thwarts people's attempts to know the living God. I understand it. It used to make me so angry and I wanted to do something to show it up.
I'm still very much bothered by what I see in the assembly of God, and of late, I sometimes feel like Nehemiah beholding Jerusalem – how its walls are in ruins, and its gates are burnt! For a while, I was resting in the revelation that my fellowship is with Abba and Christ Jesus, that this is in Christ Jesus, and it is the Holy Spirit who makes it real to me, so none can take it away from me. But slowly, I just can't help becoming discouraged by the fact that the assemblies today have gone so far away from God's desire for His people.
But in the end that is God's job, not ours. In the second email you'll notice the freedom that comes from getting our eyes off the failures of others and onto the life of Jesus flowing through us. The man who wrote the second, wrote me one much like the first a few weeks before.:
Thank you for the fast shipment of the books I ordered. I have already started reading
The Naked Church,
, while my wife is excited and looking forward to reading
He Loves Me!
Through reading some of the things on your site, I already feel released from the frustration of the current church situation. I now have a better frame of reference as to what and who the church really is. I am sure that as I pray to the Father to continue to open my eyes to Him that I will really begin to see some of the things that He sees. I am also sure that He will continue to put others around me that share my desperation.
I desperately want a intimate relationship with God, but I know I must be willing to pay the price of not allowing myself to get in the way. Even though I feel that I have been shutting myself off from God in certain ways, I have never before seen the fields of opportunities that are awaiting me in my life with Jesus as I am now seeing. I have learned a couple of things this summer that have completely shifted my paradigm.
The first is what I stated before about what and who the church of God really is. It is only able to come into a state of being with Jesus as the focal point. Praise God! The second lesson that I have been showed is that when I am helping or being a blessing to someone, they are being even more of a blessing to me. This allows me to use the gifts that God has imparted to me through His grace and love. I am starting to feel at last that even I can be used by God. How awesome is that? It amazes me to think that He chooses to use me despite myself. He does not need me to do anything for Him, but He chooses to use me for my benefit. Wow, what an awesome, caring, and loving God we serve!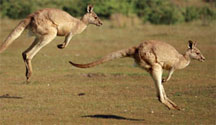 What do we do when organized religion gets us down? Get our eyes back on Jesus and the life he's asked us to live. There's nothing better we can do, even for those captured in religion, than to sort out in our own life what it means to live free. Then they might see in us something worth seeking. They are like kangaroos born in the zoo. They think they're free, because they just don't know better. They have no idea what life in Jesus is really all about. You can scream at them until you're blue in the face, but the security of the status quo will win over the uncertainty of the unknown.
But what would happen if a mob of free kangaroos came bounding by in the open fields, chasing up the hill in the glory for which God made kangaroos. Then it just might do what all the words in the world won't do…