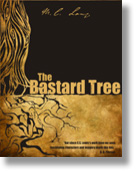 There are a couple of new fiction books out I think many of you will enjoy, and because they are self-published, you may not hear about them if you don't hear about them here. I'll post up another one tomorrow, but the first has a controversial title (to say the least), but you'll find out why it's entirely appropriate when you read the story. It's about a man living in the painful reality of his own illusions, who is offered a different way to process his struggle.
Written by MC Lang, a friend of mine from Canada. (Yes, I did try to get him to change the title, and no, being a friend doesn't necessarily get your book reviewed here. I only mention books here I think this audience would be genuinely interested in.) There are many books that I enjoy personally, that I wouldn't necessarily recommend to others for various reasons. This is the story of a man who is caught in the painful perceptions of his own illusion and has the opportunity to see through them and grasp reality. But which way does it lie? Who can he trust, and what will that reality cost him?
Mike Adams lives a solitary and unassuming life, until a near-death experience shatters it. Awaking as if from a dream, Mike finds himself lost in a bizarre reality where nothing makes sense and two mysterious strangers seem determined to pull him in opposite directions. Arrested at the crossroads of this uncertain new path, the tug-of-war for Mike's soul hangs in the balance as he struggles with what is real and what is true. As the race for an answer climaxes, Mike is thrust into a world where physical and spiritual realities collide, and the stage is set for an encounter he will never forget.
I wrote this paragraph as an endorsement for his book:
This is a first-rate parable where the line between our material and spiritual worlds blur. MC Lang invites us along for an extraordinary tale of a very common man whose comfort is shattered by the words of a stranger. But that only opens his eyes to a reality greater than he'd ever dreamed. For anyone on a spiritual journey The Bastard Tree will enlighten, inspire, and encourage you to follow the only voice that makes sense in a broken world.
I meant every word of it. I think you'll enjoy thinking through this book and the themes it wrestles with.
You can find out more about it here: http://www.mclang.net/the-bastard-tree/. You can also order it from Amazon here. (The Bastard Tree by M.C. Lang • 290 pages • $14.99 • paperback)
Tomorrow I'll going to offer you another…