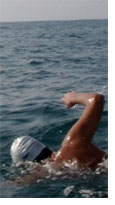 Last Thursday I had just returned from a day of meetings in Los Angeles. Among others we'd met with one of the producers of the Spider-Man franchise, who is a passionate believer, was deeply impacted by THE SHACK and wants to help us bring the movie to screen. One of the things he said was, "Do you realize what you have the opportunity to do? You get show what a flower looks like God walks past it in a garden." Wow! That makes me quiver!
I was relating that story to my wife and daughter who had brought the grandkids over for dinner. My daughter asked, "Do you guys ever stop and think that you might be way in over your heads here?"
Sara and I howled in laughter. Of course we are! I told Julie that I haven't touched the bottom of the lake in so long, I don't remember what it feels like anymore.
For the last 12 years God has asked us to be involved in all kinds of things that we're not capable of doing, nor did we have the means on our own to make them happen. Whether it has been BridgeBuilder negotiations, publishing, or traveling around the world without a safety net. But we have seen him provide over and over exactly what we needed and brothers and sisters to share our lives with in the process.
Somehow in all of that we learned how to ride the top of the water spiritually speaking, by relaxing into his love. What a shock it has been! I didn't know it, but for most of my life I've begged God to keep me in the shallow water by praying for circumstances that were predictable, manageable and comfortable. And I was always so angry and frustrated when he didn't fix the circumstances that troubled me so that I could be happy.
But that's not where life is lived for most of us. I never learned how much his love and grace could carry me through. All along he wanted to teach me how to swim on the top so that I could go places with him far beyond the shoreline. For the last dozen years or so, I've been learning to live with my security is in his love for me, not in being able to touch the bottom.
i honestly think that's how many of us have misunderstood this Christian life. We thought it meant that God would keep us in the shallows, instead of teaching us to swim over the depths. We got angry at him when things didn't turn out as easy as we wanted, when he was using those things to move us out of our comfort zone and into his. But living in his is so much better—free, alive, adventurous and fruitful.
So now I have no idea where the bottom is and I honestly don't care anymore. When you can't touch the bottom, it doesn't matter if it's 3 feet below your outstretched legs or 300. My security isn't there anymore; I am learning top put it in God's awesome love for me that can sustain me through anything, and accomplish his purpose not only in the circumstances I'm in, but also transforming me in the process.
And that's not just true for me. It's even more true for people facing far more dire circumstances than I am today. I get email every day from single moms struggling to stay afloat, people battling horrible diseases (or caring for kids who are), or people out of work or lonely and isolated. I know how frustrating all of that can be and at the same time I know that God wants to teach them to swim above those things rather than being consumed by them. That all begins with a revelation of his love and engagement with you.
His love is more certain than the rising sun. Learn to relax into him and he will become far more real to you than the fact that you, too, are in way over your head!