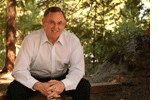 We have introduced a new design on our front page at Lifestream. Come by and visit again when you have the chance and check out the new look, which we hope will allow first time and regular visitors to find their way around the site much more easily.
Also, I was looking over some web stats yesterday from last year and was shocked to discover that at Lifestream last year we had almost 80,000 visitors view 588,000 pages from 141 different countries around the world. That blows me away. I have no idea who all those folks are, but I am intrigued by the amount of hunger there is in the world to discover a life of intimacy with Jesus, rather than just endure our religious rituals.
We have never advertised Lifestream. We've never asked anyone to link to it. I haven't even filled out the meta tags that search engines use to help people get to our site. From the beginning I wanted Jesus to bring just as many folks here as he desired, even if it was only a few dozen. And I'm constantly amazed at what people put into search engines such as, "Am I Nuts?†or "Tired of Church†and have had our site come up. And the statistics I saw yesterday just astounded me. I wish I hadn't peeked! I felt like David taking the census. Yukk!
But I came away overwhelmed at the range God has given us through this website and our others sites. Most people don't have any idea how uncertain our steps have been, and how things that began on a seeming whim, turned out to have more impact than we would have guessed. I'm reminded here of Paul's words to the Philippians, "We couldn't carry this off by our own efforts!†Amen to that! We weren't nearly so bright as to have concocted all of this, nor to have met so many incredible people in the process. So I am overwhelmed at God's doing in all of this, for it has truly been him far more than any of you perhaps know.
When we began thirteen years ago we couldn't have conceived that the Internet would allow us to put books and audio and other resources into the hands of so many other people, and to facilitate such magnificent connections by email, Internet lists and forums. We had no strategy here and still don't, beyond just loving people God puts before us and sharing freely of our own journey to encourage others who have shared our hunger to know Jesus in truth, and to find living expressions of the church as she really is in the world.
And God has ensured that we have not had to do all of this alone. At so many moments, God put the right connections together when we needed help with legal matters, computer expertise, graphics design and so many other seemingly mundane things. We have also had many, many people pray for us and send us their insights and concerns that have helped shape what we do and how we do it. We've met other fellow-travelers from further down the road who have shared the lessons they have learned with us, and even offered timely words of correction to our course. And in just the right moments, without any pleading from me, people have sent us financial gifts that have been important parts of God's provision for us.
The graciousness of our Father through these people is what has freed us to post so many free resources to help others. last hear the PDF file of the Jake Colsen story was downloaded almost 5500 times around the world, and viewed much more in readings off the web. And the Transition series has been downloaded almost 2300 times since we posted it in June.
I just wanted you to know that all of this, however it touches you, is a result of God's amazing generosity. I've just been reminded of that and my heart is with awe at his working, and filled with joy for all of you who have been such a big part of that.
From the bottom of my heart, thank you! Thank you! Thank you!