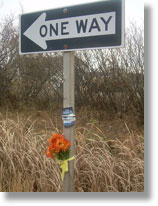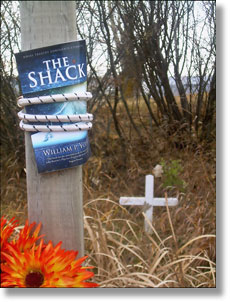 Someone from Alberta, Canada sent us these photos today. A few days ago he'd driven by a makeshift roadside memorial to a recent death on the highway. When he passed by it yesterday he noticed something had been added. Do you see it there on the post? Let's zoom in by looking at the picture on the right. Someone had attached a copy of The Shack to the signpost near the accident.
That's all we know. We have no idea who died there, who posted the book, or what is going on, but what a poignant statement. The mail we continue to get because of this little book is astounding.
One of the people really impacted by it is Wynonna Judd, the Country-Western recording artist. Here's what she wrote:
"I received a copy of The Shack during a very difficult transition in my life. The story has blown the door wide open to my soul and during this time I've asked many questions. It reminds me that though I ask, 'Why?, I know who is still in control."
Just today I received this from a sister in South Carolina:
I'm half-way through The Shack and have been to Willie's web site. I haven't yet found the words to express how it has touched my heart. If only we were told of the inexplicable love of God when we were growing up, instead of the hell, fire, and brimstone so many of us were introduced to! When they taught us to sing, "Jesus loves me, this I know…" And we were like, "yeah, right!
And this from a South African couple who have recently re-located to England:
We really enjoyed our time with you in Bournemouth when you were out. We picked up a copy of The Shack that weekend and, man oh man, it was such a refreshingly different truth-injecting non religious read. I am busy giving it a second go due to the rich content that I seemed to have missed the first time round. We recently made a trip back to SA for a friend's wedding and spent a lovely 2 weeks there. We took some copies of the book for people and the feedback has been really amazing.
Now I've got to get back to formating the hardback version for those who have requested copies that will be more permanent…