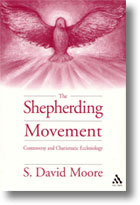 I don't hear much about this anymore, but it was a catalyst for a lot of contention and division in the Charismatic Renewal back in the mid 1970s and into the 1980s. Charles Simpson, Bob Mumford, Derek Prince, Don Basham and Ern Baxter were gifted teachers and authors who found some common ground in their spiritual passion, teaching, and alternative views of church life
Unfortunately it didn't turn out to be as helpful for everyone involved as they had hoped and it proved divisive among the Charismatic renewal as a whole. Someone sent me a new book last week entitled The Shepherding Movement , by David Moore.
I have to tell you, I wasn't all that excited about reading it since it seems like an old story that doesn't need to be resurrected. Though I wasn't involved in the movement, I did help pick up some broken lives scattered in its wake. At the time I was deeply saddened by how those brothers had squandered their teaching gifts to create an institution that for many proved manipulative and destructive. But things aren't always all that they seem. In recent years I have also met a number of people whose lives were deeply grounded in Jesus' life through that movement. They talk with regret about the hurt it caused, but are still grateful for how God had used that season in their lives to equip them to live deeply in God's life.
So in the past few days I read the book. I was just going to glance through it briefly and add it to the large stack of books that others want me to read. But somehow I got hooked by the story and drawn to the lessons the other was making. Moore's book claims to be an academic treatise of the movement and he does a masterful job at maintaining an even-hand throughout. As he tells the story from extensive research and interviews with the key players a different story emerges than the one I'd assumed. He wrote about people who were passionate to find a more relevant way of living as the church and how they stumbled upon certain relationships and models they thought were Godly. As they played out, however, their desire to create a new structure and encase God's work in it created a monster that even all of those who helped create it eventually came to lament.
Part way through this book I recognized that this was not just an historical curiosity; it was also a magnifying glass probing the motives of my own heart.
This is a timely book for anyone who hungers to find new models of church life to make it more relevant to today's culture. This path has been trod before. The very idea that we can contain God's working in a movement controlled by people, however gifted or wise, must be blown apart. To think that we can construct replicatable models, no matter how much people may cry for them, and the exaltation of any hierarchical structure to maintain it, invites us to recreate that same monster. This book shows all too well how the best people, driven by the best ambitions can end up doing things that not only distracts people from God's life, but also devours them in the process. If we don't learn the lessons of those who have gone before us, we are doomed to repeat their mistakes.
When we think our structures are more biblical, more Godly more right than other structures, we've already lost that battle. Jesus didn't place the life of his church into any particular system, but into the hands of the Holy Spirit. That is best maintained by people from all over the world who will listen and follow Jesus in concert with others who are also doing so as well. He will knit us together through the relationships that he desires so that he can prepare a spotless bride for his pleasure.
I'm not advocating that we remain passive in this process, but that we take great care at how we labor. Let's not invest our efforts in movements or models that will come to nothing but in people who will demonstrate his life in the world. We can equip people to view the church as Jesus viewed her. We can talk about scriptural priorities for discovering that life together and help people see the myriad of ways God gifts his people with authentic community. We can teach people how to walk together and listen to God together so that he can produce among them the expression of church life that will most encourage their journeys and reach people in their communities. But we dare not give ourselves to deceiving idea that we can encase that in a system or entrust it to any self-appointed group of leaders as a substitute for growing dependence on the Head of the Church himself.
This book is a must-read for anyone concerned about church renewal in our day. But don't read it looking for mistakes others are making. This story will probe your own heart to ensure that you are working alongside Jesus as he builds his church rather than asking him to work alongside you as you try to build your own version of it.