The last few weeks have been filled with family and friends during this end-of-the-year season and I was able to complete my latest book. But more on that below. This last week has been a refreshing and restful time. I had a three-hour drive with my 89-year old dad just after Christmas getting him back to his home and we got to talking about his childhood, my childhood, any regrets about his journey, and how God has been faithful through the years. It encompassed the span of both of our lives and was one of those conversations I will remember for the rest of my life. I think many people would love to have that kind of time with their parents before they go, but never seem to find the time or the questions to let it open up. Trust me, find the time! Ask the simple questions of "What were your parents like?" "What do you remember most from grade school years?" "Any regrets?" We fell into a very natural conversation when my dad was especially talkative. I am blessed with a rich heritage of faith for sure, but I also Dad and I see things quite differently at times. It was great to see God and the world through his eyes for those three hours and I learned an awful lot I didn't know about my dad and his life.
On New Year's Eve and New Year's Day we connected with two couples that we've been close to for almost 40 years, meeting at a congregation where I had my first vocational "ministry" position. They were also part of my time in Visalia. We had almost 24 hours together to share our friendship and catching up on each other's lives—both the struggles and joys of being on this journey. There is a rich heritage, too, of relationships that we have cultivated over many years and through many twists in the road. The fellowship was rich an the conversation filled with life. What a graet mini-retreat!
I've also had much more opportunity for personal encounters with people at propitious moments in their journey. I find my heart leaning more away from "group" meetings and more toward pro-longed conversations with people engaged in a transformative journey with Jesus. There are an increasing number of people that just want to stop by Newbuyr Park over lunch or a beverage to share this journey and I find when I'm on the road that the personal conversations have been so fruitful. So I don't know what the year holds there. As I move into this stage of our my journey I much more appreciate the honesty, open conversation with a few rather than trying to facilitate it with a large group. I'm sure I will still do both, but excited that the shift seems to be moving more toward personal engagements where more transformative topics seem to come up and deep friendships often result. This week while Sara and I were visiting in Central California two people heavily engaged with a congregation nearby wanted to meet with me. We spent a couple of hours together over coffee first and then some pizza. Great conversation. I love what one of them wrote about their conversation back home:
Thank you again Wayne for spending time with us today! As we got into the car after lunch, I asked my friend, "So, what'd you think?" He said that you are the same in person as you are in your books & emails—authentic & friendly! I'd say it doesn't get much better than that! Thanks again for all of your hard work, and all of your writings! The "Jake" book totally grabbed me & authenticated my Journey… "He Loves Me" reiterated what I already knew, but even more. "Finding Church" has really left me at peace.
No, it doesn't get any better than that. "Authentic and friendly," is what I hope people see in my life however they engage me. I've met many an author or speaker who seemed to be in private the exact opposite of the personna they cultivated for the public. I've never wanted to be that guy and that brief note blew me away. I am so grateful at Father's love has shaped in my life. So grateful. Believe me, such things have not always been said of me.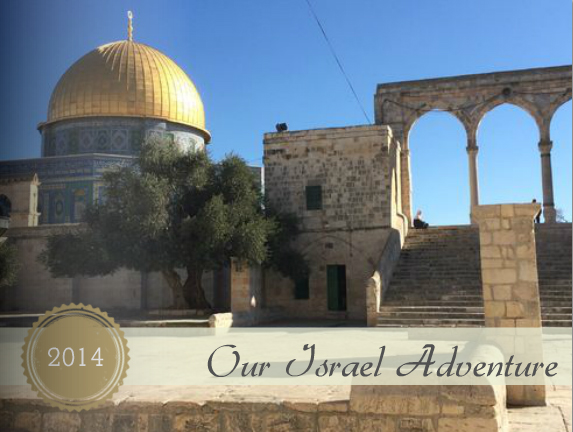 My Christmas project this year was to put together over 850 pictures that our photographers took on our trip to Israel last February. What a daunting task to cull through the pictures and chose those that could capture the trip and the people who joines us there. If you want to have a peak, you can view it here. It has amazed me how much that group of 40 people has stayed connected in the months since. They have visited each other even across countries and continents, and stayed in contact through a private Facebook page as they continue to cheer each other on in the amazing journey of life. We really did come to Israel as strangers and left having become a part of a larger family. Many people have bugged me about going back at some point and I probably will when my daughter's kids get old enough so that she can go. That may be three to four years out, but nonetheless a possibility. And if some of you want to join us for that, I'll go through all of this again!
Finally, lots of incredible doors are opening up with Finding Church, that I'll be more free to talk about in the weeks ahead as we try to sort out which way the Spirit is blowing us. The emails I get about the book have been much appreciated as are the thirty-one people have posted reviews on Amazon.com, even the guy who only thought it deserved two stars. He seemed to have missed the point but he took a chance to read the book, which I think is awesome.
As I look forward to 2015, I don't start with a lot of personal goals, but I have an expectancy that God and I will continue this incredible journey and that he'll allow me to help some others along it as well. At this point I have little scheduled and even less planned, but I couldn't be more excited about what might unfold. I pray you too will have a fruitful year ahead and that we'll all be a bit more free of our own hopes and dreamss to see his unfolding right in front of us!