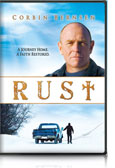 Sara and I attended the Hollywood premiere of Rust Thursday night, a movie about a loss of faith by a pastor and his attempts to sort out the lies of his past from the truth of it. No, we haven't joined the celebrity crowd. The writer, director, and producer of this movie, Corbin Bernson (LA LAW, MAJOR LEAGUE) has become a bit of a friend in the last few years. Brad and I looked in on the movie early on as Corbin shared with us his own recent journey into faith spurred by the death of his father in 2008. I have enjoyed getting to know him and the journey he is on sorting out what faith in God means without all the religious trappings.
The movie in many ways parallels Corbin's own spiritual journey, but also has an interesting back story. Funded by and set in the real-life Canadian town of Kipling, Saskatchewan (and featuring local citizens in prominent roles), RUST is a labor of love filmed on a shoe-string budget with unprofessional actors, but is an engaging who-done-it mystery surrounded by pain, an enduring friendship, and a passion for truth. I think many of you will find this an interesting and inspiring story. It released straight to DVD and is available at all your normal DVD outlets.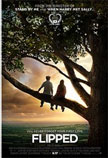 I also wanted to commend another movie that I saw on my recent flight to Germany, not for its spiritual implications, but for its tender story of young love. FLIPPED, by Rob Reiner, tells an engaging story of two kids growing up across the street from each other who can't seem to "like" each other at the same time. Each event is told alternatively from each character's point of view and is a great study on how we so easily misunderstand and misinterpret the actions of others. It's wonderful little movie and somehow during the last song it made me fall in love with Sara all over again, something I look to have happen every day. Sara and I watched it the other night and she loved it too. It opened in theaters but is now on DVD.
Also, Narnia opens today. I probably won't see it for awhile, but THE VOYAGE OF THE DAWN TREADER is my favorite book in the Narnia series, and I can't wait to see it someday soon. But this weekend is way too busy and I don't enjoy opening weekends anyway.