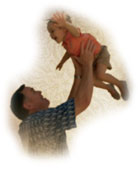 I got this email yesterday from a friend who is on the journey of learning to live loved after raising his children in the demands of religion. Now adults, some of his children are questioning their religious upbringing and some have become quite accomplished Pharisees. All of them at the moment are going through some very hurtful and desperate circumstances.
In the second to the last chapter of He Loves Me, I related Jesus choice in John 12 to pray the God-save-me-prayer as he faced the cross, or the Father-glorify-your-name prayer. Jesus chose the latter, and he alludes to that in his brief note.
Here's what he wrote me. I hope it encourages others of you with adult kids to trust God's ability to win them to his love, more than you trust your own:
The boys do not like to spill all their problems on me but oddly, because I am finally starting to believe in Father's love, it does not hurt or panic me. I don't even feel the need for a SAVE ME prayer. Glorify your name settles my heart far better than waiting for God to do some miracle to relieve the pressure. I keep reminding the boys that it is all about learning to live in and trust Father's Love.

I know they will get there because my oldest daughter (who had her PhD in Pharasieeism) is truly living loved. She has already gone down this road and will tell anyone IF she is wrong about Father's love she is hopelessly lost because she cannot go back to where she was. I know Father will get them all there in His time. I am finally at a point where I am free from having to prove God's love for them. He is doing that quite well all by himself. I keep telling them to just watch, and then point out how he is proving His love and care.