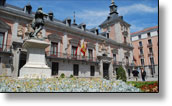 Yesterday we drove from Madrid to the south coast near the city of Malaga for a weekend retreat. (The picture at left is from our tour in downtown Madrid.) We are on the Mediterranean Sea, and even got to dip our feet in last night. This morning we had one of those amazing discussions about the cross, and eyes were opening around the room like I rarely witness. People were in tears, and even my translator could hardly contain himself. God just dumped an amazing amount of his grace into the room.
I sat there amazed, knowing that this was a very special moment in some people's lives and that it had nothing to do with me, but what God wanted to share with some people. When we dismissed at the end not a soul moved. Finally one person said, "We are undone!"
And it was true. I am amazed that God lets me be part of stuff like this. But we have truly been taught an inadequate view of the cross that makes God the angry judge, rather than the loving Abba. Some people love it that way and will fight to the death to preserve what they believe to be an adequate view of God. The cross was not God crushing an innocent victim, but substitutionary atonement in the truest sense. Jesus took our place in the healing of our sin and shame, so that we could draw near to his Father, our Father, without fear and without shame. It is truly the most amazing story.