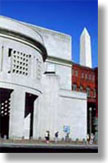 This feels like one of the longest trips of my life, just because of the ever-changing nature of the meetings I am into. I started over the weekend with some brothers and sisters from the Nashville area (and some that came in from further distances) sharing the life of Jesus together. Then it was off to Vanderbilt University for three days of sorting through church/state issues with a host of civil liberty groups, advocacy groups, lawyers and academics attempting to sort out such things as the Bible in public schools and evolution and intelligent design. I had some wonderful personal conversations as part of those days that were incredibly enriching.
Now I've moved on to Washington, DC and yesterday toured the Holocaust Museum (pictured at left) for a gut-wrenching, moving and eye-opening experience. We came away overwhelmed by what had happened, how easily an entire society was manipulated into such atrocity and the absolute devastation of so many lost lives. Unbelievable! And the exhibit touches some of your deepest emotions. Everyone on the planet would do well to live through that unspeakable time of our planet's history and the reality of how one group of people could be so systematically targeted for torture and death.
Then last night we met with some networks of believers in the DC area that were most fascinating to say the least. I wish I could speak more about it here, but I just don't have any idea what to say or how to process it yet. We went from one of the high-end office/restaurant areas of DC to a smoke-filled basement with half a dozen young men who were sharing a hookah as they were asking real questions about life in Jesus and how they could live it more authentically.
I'll finish here this weekend with Friday night, Saturday and Sunday meetings with friends of Lifestream and The God Journey, and friends of those friends. I'm looking forward to seeing some folks I've met before and meeting new ones. And then on Saturday afternoon I'm doing a presentation as part of my BridgeBuilders portfolio to the leaders of 17 of the most influential government lobbying groups on public education about how we can deal with sexual orientation discrimination and harassment without undermining people of faith.
You just never know the places God will ask you to go. I treasure each of those environments and what he is doing in the midst of them, though so many coming at me in rapid succession, has worn me down pretty well. Today has afforded more rest and a chance to catch up on the office stuff that has built up.
As I spent some time in Matthew this morning, however, one phrase put perspective to so much of what I'm involved with during these days. I read the story of Jesus coming to the disciples in the midst of the storm as their boat is being swamped on the Sea of Galilee. Jesus has just endured the news of his cousin's beheading by Herod, dealt wiht 5,000 people who wanted to hear from him and spent an all night session alone with his Father. The disciples saw Jesus coming to them over the waves and their hearts are struck with fear.
"It is I!" Jesus spoke to them, though they hardly believed it in their fear. I love that simple expression. Honestly it doesn't matter to me where God asks me to go or who I might be asked to touch on any given day, as long as I can identify him and the work he is doing in those things. I may only have a hint of it, but when I hear, "This is I," my heart comes to rest. It doesn't matter if I'm stretched way beyond my comfort zone, or if the waves are crashing over the bow. It only matters that he is there and his purpose is unfolding in the way I live alongside him. Then, I really don't mind being anywhere he wants me to be!