I'm beginning to wonder if Israel's preoccupation with counting horses and chariots whenever they were threatened instead of relying on God to protect and care for them is the same mistake we make when we look to human-designed structures to keep us safe in Jesus. We are still looking to what man can do and not only is it always disappointing in the end, but like Israel's kings it was always destructive to the people they ruled over. From the beginning of time, God has invited humanity to trust him only with the promise that he will care for us. And our natural proclivities have been to feel safer in structures of our own creation, led by other humans who think they have authority over people and rarely seeing what kind of community God creates if we ceased from our own labors to embrace his.
I'm one person who is far more excited about the church Jesus is building in the world than I am any of man's attempts to do so. For even within our institutions the real community doesn't flow from the programs but the interconnections God gives between people who will lovingly care for each other and encourage each other in the journey. We're going to talk about that this weekend in the first three days of my ten-day trip to Carolina. Twenty of us are meeting in a home on Lake James and see what God has taught us in our journeys and what he might show us together. I have no idea what the outcome might be but you're sure to read more of it on the blog or hear it on a future podcast. This conversation has been building since The Greater Gathering podcast I did in January.
After those days I'll be staying another week in the Charlotte and Winston-Salem areas meeting with a variety of people. If you'd like to connect, please check my Travel Page for details. I've intentionally left some open time to see what God initiates while I'm there.
In other news, I want to offer my apologies to those of you who have had trouble navigating our website since we made the switch. Unfortunately that was not as smooth a transitiona as I hoped for and the process made it difficult for people to find what they wanted, order from our store, or simply comment on a blog. We have made huge strides this weekend to make the site more user-friendly and I hope if you gave up at some point, you'll return to have a look around. Though I'm not much for videos, I'm blesed by the feedback we're getting on my Engage Videos, that are helping people find their way into a meaningful relationship with God, just by encouraging them to recognize how God is building a relationship with them. If you haven't seen them yet, you might want to check them out.
Finally, I've been in constant communication with the brothers and sisters in Kenya. They sent this picture of those pastors and teachers who have gathered to go through The Jesus Lens material to help them share with others a gospel of grace and freedom from the Scriptures, rather than the old distortions they've learned in the past to twist people into the religious rules that were part of the Old Covenant, not the new.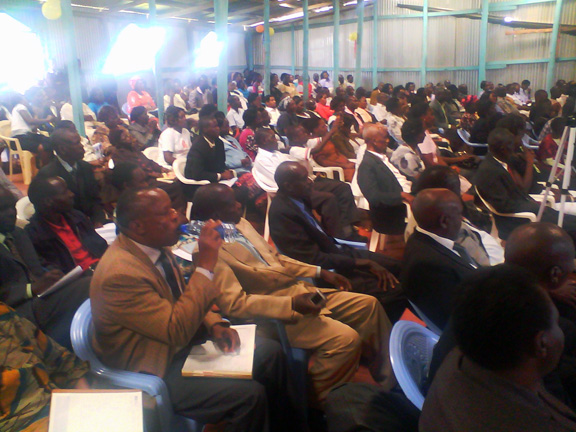 I am also working with them in completing the petrol station they are building to fund the ongoing needs of the orphanage we helped them build. We are in the last stages of finding the money to help them complete the service station and are in need of more funds to help us complete it. They have run into some unexpected expenses with an emergency system and some additional land so that large trucks and buses can access where they were required to put the pump. This amount needs to come in quickly as this land is being developed, so if you feel called to help us support these children with this enterprise, we and they would be grateful. If you want to know more about this project or the AIDs recovery home we also support in South Africa, you can see our Sharing With the World page at Lifestream. You can either donate with a credit card there, or you can mail a check to Lifestream Ministries • 1560 Newbury Rd, Ste 1 #313 • Newbury Park, CA 91320. Or if you prefer, we can take your donation over the phone at (805) 498-7774.