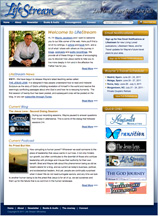 I'd like to invite you to visit our new Lifestream home page, which has just been redesigned to give visitors a quick overview of what's going on in my life. Originally designed to be a welcome page for new visitors, it now includes the most important information coming out of Lifestream. You'll find a section for the latest Lifestream News, Wayne's most recent blog, the current podcast at The God Journey, what's next on Wayne's travel schedule and quick links to the most visited pages at Lifestream.
You can now bookmark this page as the one to go to to get caught up on what we're doing around here. Rather than checking multiple pages to get the information you want most, you can now find it all in one place with links to get more detail on those portions that most interest you. We hope it is more convenient and helpful in making available the thoughts and ideas that I am involved in.
And as I prepare to head out for a trip to Europe I am blessed by the comments and interactions I am already getting from those who are listening to the new Jesus Lens series. We are also preparing the videos of this as well. It is an eight-hour, twenty-four part overview as to how to glean the truth from Scripture by reading it through the lens of the revelation of Jesus Christ. We are making it available free of charge both by audio and soon by video as well. Eventually we'll have CDs for the audio and DVDs for the video available through Lifestream.
Finally, in our corner of the world, tomorrow is Father's Day and I'm looking forward to sharing some time with my incredible kids and grandkids. I realize this is a mixed-bag in our culture. While most celebrate the joy of fatherhood and their appreciation for the incredible men who loved, taught, and cared for them, it can also pick at the wound of those whose fathers either were absent or abusive. Regardless of how awesome or awful your earthly father might have been, I hope we can all celebrate this one reality, we ALL have a Father that outshines any human father on the planet. He is more loving, more gracious, more real, more fun, and more caring than
Jesus walked with that Father when he was here. And then taught those who were closest to him, it wasn't just his Father, but our Father. May you know the love and care of that Father with ever-increasing reality and joy!