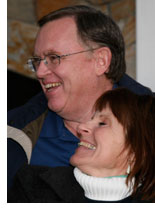 One of the true joys of this time of year for us is to look back at they year that is now passing and be reminded of all that God has done in our lives and all the people he made part of that. Because of our crazy lives we get to connect with hundreds, if not thousands of people, through visits, travel, phone calls and email.
So for all of them and for all who frequent this blog, Sara and I recorded a special Lifestream Podcast to share our greetings with you. )You can listen to it simply by clicking on the link, or right-click on the link if you want to download it to your computer or mp3 player.)
This year we journeyed as far as Germany and Switzerland and to the Carolinas for the first time. Wherever we go we are always blessed by the people Jesus has linked us to by my writings. We admire the courage of those who are living to their convictions and passions, rather than just settling for religious obligations or rituals. I know how difficult it is, especially in the early years, but also how rewarding the journey of following Jesus with abandon and connecting with others he gives you.
My heart and prayer for those of you who frequent this blog, is taken right from Paul's prayer for the Ephesians:
And I pray that you, being rooted and established in love, may have power, together with all the saints, to grasp how wide and long and high and deep is the love of Christ, (Eph. 3:17-19)
Merry Christmas to you all. May these days and the year ahead be filled with the increasing reality of his presence and may he surprise you with simple joys and laughter all along the journey. Here are a couple of our joys. I couldn't resist the chance to share them with you again. They are such a joy and wonder in our lives.