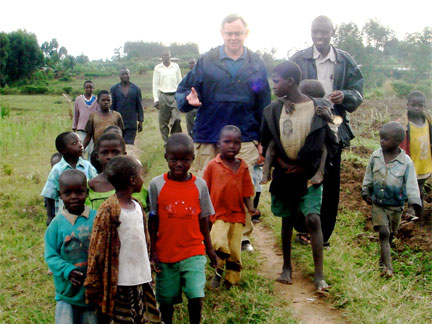 Over the last two years I have often written on these pages about the incredible need of the Kenyans God put us in touch with four years ago. Two years ago their country was wracked by violence after a disputed election. Tens of thousands of people were killed in the region of Kenya where we visited. I know there is great need all over the world, but I am convinced this is a corner of the world where God has given us relationship and influence and is asking us to love these people well.
If you haven't read my blogs on Kenya, feel free to use the Google search window on the front page at Lifestream. Type in Kenya, and it will bring up all the blogs I've written about it. Or, you can just scan down the most recent ones below. You can also listen to the podcast Brad and I did last week about my trip there with some audio I taped over there with our hosts and my traveling partner. Also, the new podcast that will air this Friday (3/12) will continue with some conversation about Kenya and how some of us might be a blessing to these believers.
The people Kent and I spent our time with in my most recent trip to Kenya have a heart for those who were left without husbands and without parents. They run 19 different orphanages encompassing about 70 children, some of those in their own homes. They also provide care and support for widows and help finding a job they can do to help provide for themselves. Michael Wafula, our host there is as genuine a man as I've ever met. He spends his life encouraging people on a God Journey and caring for others.
We have started a new page at Lifestream to help direct resources to that area of the world in two different ministries that we have supported ourselves over the last few years. If you don't have contacts elsewhere in the world and are looking for a place to share some money with people who have almost nothing, we would invite you to join with us. We don't take out any administrative fees with this money. Every dollar you give will go to benefit the people you want to bless.
One project we mentioned with Michael when we were there was to get him a more dependable car. He travels all over Kenya and to Burundi, Rwanda, Uganda and other countries in the region, helping to encourage those who are sharing the gospel and caring for others. The car they have know barely works. Parts were falling off of it as we drove around and they travel with a mechanic to keep things running. Once they spent two days living out of the car in a remote region because it broke down and they didn't have the money to procure parts.
I asked him when we were there what a better car would cost him, telling him I'd like to see if others here would help. I would love it of The God Journey and the Lifestream audience could help buy him a better vehicle. He just wrote me this morning to tell me a friend of his has to sell his nearly-new Land Cruiser and would sell it to Michael for $15,500.00 US. I would love to see us help him find a way to get a more dependable vehicle as he goes about encouraging others and helping manage the orphanages in that region.

Here is the old car we'd like to replace. This was one of many times we saw it hood up
with the mechanic trying to repair it so we could get on. On one rough road the muffler
fell off and the car behind us stopped to pick it up. I'm blessed that they've made do
with this for so long, but would love to see it replaced with something far more dependable.
If you'd like to help us purchase them a car, or donate to the widows and orphans of Kenya, please see our new Sharing With the World page at Lifestream. You can either donate with a credit card there, or you can mail a check to Lifestream Ministries  • 1560-1 Newbury Rd #313 • Newbury Park, CA 91320. Or if you prefer, we can take your donation over the phone at (805) 498-7774.
Thanks for your consideration of these people. Please feel no obligation to help, nor give out of any speck of guilt. We know that many of you are in dire financial straits these days yourselves or are already helping in other places of the world. Paul encouraged us to give out of generosity (2 Corinthians 8-9). If you have an abundance now, freely share with those in need. If you are in need now, God has ways to provide for you too, and I pray that he does!