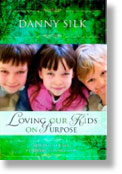 One of the most-asked questions I get as I travel around is, "How do we raise our children in this new life of grace?" I often found myself lamenting the fact that I didn't have a resource to recommend for people. Well now I do! I have found the best book on parenting I've ever read that blends freedom and grace with discipline and growth. It's called Loving Our Kid's on Purpose By Danny Silk. I have not read a book in the last two years that I would recommend with more enthusiasm than this one. Not only will it give you a framework to deal with your own children, it will also help you understand the process by which Jesus deals with us. It's a real two-fer—grace without permissiveness, for children as well as adults!
Honestly, I'm confident the reason why so many people have a difficult time embracing God's grace is that it feels too permissive to them. We know that grace is the polar opposite to the performance-based conformity models of child-rearing that we've learned in our homes, schools, and religious structures. I've been asked countless times, "So God just loves us while we do whatever we want?"
People who think such things, don't yet understand God or grace. Fear and intimidation only work so long, but never transform the human heart. That only comes through choice. Grace is not a permission slip to go destroy yourself. Grace opens the door to know God. And you can't know God without wanting to be like him. There is no permissiveness in grace—just freedom. That freedom opens the door to an amazing work of transformation God does as we follow him. And if you don't get that, he will still love you. But like the prodigal son, eventually the destructive consequences of living with you at the center will eventually overwhelm you. Grace opens a door to relationship, it doesn't negate our destructive choices. If you want to understand this process better, go out and get a copy of Loving Our Kids on Purpose. You won't regret it. And if you have young children you want to parent with God's heart, so much the better.
A young mother with two children from South Carolina first put the book on my radar screen. She wrote:
At first I was hesitant because Christian parenting books and I have never gotten along very well, and it's been so nice to not be living under shame, rules and condemnation — and they tend to heap those on me in spades (rather, I heap it on). But this book has been very different. It illustrates how we can relate to our children in the way that the Father relates to us — out of a heart of love and patience and freedom without spirits of fear and control, yet not being permissive parents — still being our kids' guides and teachers. It's not a book of strict how-to's or magic formulas. They're just very simple, fundamental principles that jive with the glimpses of the Father's heart that we've seen the last few years.

It's not a silver bullet by any means because it's not going to be an overnight change and things will never be perfect because there are four very human beings in the house who make selfish choices every five minutes. But I do believe the overall tone of our home can change and that the girls will then see Jesus modeled in us and come to understand the true nature of the Father's heart. The first step in walking this out will be self-control on our parts — not reacting out of selfish anger, taking time to think through situations before we act, and intentionally choosing to allow love and respect to dictate our attitudes. That won't exactly be easy because we've nurtured some bad habits, but hopefully as we make the right choice more often, the right seeds will grow in our hearts. The next step will be extending to them the freedom to make mistakes and learn from them without shame and condemnation, being there for them as they experience the consequences of their decisions. In the end, it's really about treating them the way we want others to treat us and the way God does treat us.
She's dead on! I talked my daughter into buying the book and then read her copy two nights ago. I laughed. I wanted to shout AMEN on just about every page. I could easily have slipped the best moments of our parenting into his illustrations, even though I didn't know why those moments felt so right at the time. And I lamented those things that I'd done that only sought to win their conformity to my rules with fear and intimidation. This is parenting that puts the heart to heart connection with your child above anything else and out of that instills in them a culture of respect, good decision-making and consequences for their own choices. This is parenting with a sense of humor, not anger. It offers the ability to motivate kids without alienating them, and loving them without giving-in to their baser instincts.
Let me share with you some excerpts from the book:
This book will show you that the goal of obedience and compliance is an inferior goal. It can actually be detrimental to both your children's development of personal responsibility and their perception of God as Father. Although obedience is an important part of our relationship with our children, it is not the most important quality. If we fail to take care of the most important matters first, what we build on top of our foundation will not support what we are hoping to accomplish as parents….

There is a huge difference between a culture where obedience and compliance are the bottom line and a culture where relationship is the bottom line.

In order to train our children in love, our behavior as parents must reduce fear, not increase fiear. When happens when you go toe-to-toe with one of your kids? What happens when one of your kids does not want to obey? What do you do when your child lies in your face? What is your response when your child gives you something ugly like disrespect? …As much as love casts out the fear, fear will cast out love. Love and fear are enemies. They are completely different sources. Love is from God , and His enemy produces fear. We need some methods, tools and skills to respond to ur child's sin in such a way that we create love, not fear.
And what's more this grace-based parenting works with children of all ages—from our youngest toddlers to our adult children. It offers hope to restore that heart connection where it has gotten lost to our power-based conformity tactics with older kids. And what I like most is that while this book is incredibly practical, Danny doesn't give how-to formulas for every situation. Instead he gives us a very simple framework in which to consider our possible actions and the opportunity to look to the Holy Spirit for direction as we work through the daily realities with our own children.
If you want to understand how God's discipline functions in your own life and how that can change the way you parent, go get a copy of this book! Devour it. You won't regret it!