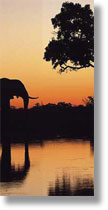 I have to be a bit vague on some of the details here, because the writer of these emails, Jamal (not his real name), lives in an area of Ethiopia dominated by Muslims who persecute those known to be Christians in that region. He was in the States on an education visa, and at the end of his studies he had an encounter at a service station that started an amazing journey.
After a rainy night at the state fair and missing his daughter's performance in the musical he want there to see because his daughter had given him the wrong time, a frustrated Doug stopped at a gas station on the way home. He was thirsty so he went inside instead of paying at the pump. It was during the Olympics so he asked the Ethiopian gas attendant, Jamal, what athletes he was watching and what sports were big in his country. Jamal asked Doug why so many American athletes say that God helps them. Doug told him about Jesus and answered his questions for about 20 minutes. Jamal said he wanted to learn more and Doug gave him his phone number as they walked out of the gas station in the rain, at the end of Jamal's shift. They talked a couple short times after that, over a gas purchase. Now Jamal was a graduate student in a doctoral program at a local university. He called Doug several weeks later and wanted to meet for lunch before he left to go back to Ethiopia.
They met at a deli for lunch. Doug would often have to write words down and let Jamal look them up in his dictionary. He drew the 4 spiritual laws cross diagram and showed him verses in the Bible. Jamal asked about prayer and then, without another word, he dropped to his knees right there, bowed 3 times and prayed out loud for forgiveness in his broken English.
He wrote Doug the following email that evening:
11/1/2004

Since my tongue will not say correctly so many of the words I can write I wish to tell you in this way my deepest gratitude. I wish there only was more time to learn from you more what is beginning in my heart this day. When I come first to America I am thinking that my heart is full of many dreams. But really it is only my head that is filled with these. My heart was still beneath the smiles filled with many pains and wounds, many because of my own hands. This I am trying all the time I am here to hide from all around me yet mostly from myself. I am looking for the "special magic" of America that so many peoples from over the world are longing for to find some success only to know that it can not fill up the emptiness leftover from past hurts.

But today I am praising this Jesus who sends you into my store in the rain to tell me that his love is the gift that heals what no man can see or touch. As your words come to me I can feel him touching this pain that I am hiding for so long. Can it be this easy that he would bring to my heart the joy of his forgiveness as a present like your Christmas every day? I am wondering how I must pay for such a freedom treasured. In my country if you wish to be free from prison you must bring money to the police and guards from your family. How then can Jesus way be so free? I am wishing I had some of the money left I am paying to the University and knowing that it would not be enough. This I am thinking as your words from Jesus talking are flowing through me like water poured over the cracks in dry stone. Then I see that it was never easy because of what Jesus has paid for me the blood poured from his heart. And I am seeing him with scars and brokenness because of the things I do. Yet knowing that he says to me, this is for you so you may be free.

Now I cannot wait any longer. So I am asking how I can open this gift? When you are telling me prayer is not remembering words from writing down somewhere else but turning away from the road of myself and toward Jesus and telling him all that is in my heart. So I am kneeling on the floor in the restaurant to ask Jesus for this forgiveness and he is with me making the wounds of my heart like new flesh.
Now I am thinking when I am coming to America my wallet is full and my heart is empty and now I am going home and my wallet is empty but my heart is full. I am dancing inside myself. Now the story I am telling as I go to home is not about America but about God's son and the gift of his peace and freedom.
I am also asking you to thank your church for the Bible. I will be reading and writing to ask you many more things I need to learn. Thank the church also for the prayers they have been giving to Jesus for me.

Your friend,

Jamal
Doug got another email from him the next day that said he was struggling to pray in English when Jesus spoke to him in his language of Swahili. Jamal wrote, "Now I know your Jesus is not just the God of Americans but of the forgotten peoples as well."
With a minimum of what most people call discipleship, Jamal returned to his native country with the simple encouragement to read the Bible, talk to God and follow him as he makes himself known to you. Here is what has happened since, in Jamal's own words in emails he has sent to Doug:
11/8/2005

I am writing once again to you for sharing with your friends. Tell them again that I am not having a translator like at University and so I am very sorry for this bad mistakes in writing. If there heart is like yours in love they will understand and be glad.

Many days have past and I have not written you. Your heart must be filled with wonderings about me. Sorry I am for this beyond words for I cannot count how many times I wished to write to you or am thinking of you or needing from you answers but I am not in a place where e-mail works until I return to a larger city. This I am planning to do many times but the journey is so long and always something happen to keep in a greater working.

For my days in America I am trying to fill my head with knowing and remembering of things taught so that I can come back to Africa and use this learning for my family and the peoples here. But God has always planned another way that my heart would be so full of Jesus that this is all I am able to share.
So now in every village I am first planning of helping people in living ways to find some success in the world, now God is building the "living stones" that you were telling me the reading of in Peter's letter. This is best for in many places now there could be no building of my hands big enough to hold them all. All this God is doing as we share the Jesus of our hearts and his great love.

In my city I am beside myself because it seems there is a mountain too high for any climbing between the people and the words of Jesus. They are saying that these words are for the white man only and there is no place in the heart of Africa for them. When hearing this I am in sadness deep within my heart too much for words of any kind to tell. I am melting on the inside and afraid I will run into the sand and be soaked up. I am wishing to speak to you and not able to eat for many days. Then I am remembering some of your words sent to me from Jesus' brother James to ask God for knowing what to do. So I am talking to Jesus many days and then my mind is remembering the story you told me of the man from Ethiopia, how that in the great success time of Philip, God is saying by his Spirit that what is more important is to go to the desert and tell one man from Ethiopia about Jesus story. So I am reading from this Acts in my bible to the peoples. This I am saying there everyday and it is as though the mountain is falling into the sea of God's mercy for this people and their dry spirits are drinking of water that is ever living.

But also a door is opening inside of me and I am walking now the path of some of your teaching to me and more. Before this too much of this is only words spoken about a far off place made of dreaming. But now I am not dreaming because this I see when I am awake in the day. This people with me and myself are learning to ask of Jesus from their hearts and the answers are too many for the telling. And so wonderful to see that even then they are hard to believe. And the greatest thing of all is that in the asking by this peoples to God they now know this is not the power of Jamal but the power of our Jesus.
It heals the sick when there is no doctor or medicine, it brings a doctor who is lost to the home of people who are made well by his care, it brings food to the hungry paid for by other Christians who know us not. They tell the driver, take this food west until someone asks you for it, we do not know where only that this is what Jesus is telling us to do. And they are driving no more because they are running out of gas in front of the house where we are praying to ask Jesus for this food. And then we are praying to Jesus our thanks for them and this people we know not and that he will provide them gas for driving back and no one is coming all night to the village but in the morning David is walking by the truck and smelling gas and we are finding the tank so filled it has spilled out onto the ground. And the boss is saying who fills this truck up with gas and the men sleeping in it all night are saying no one has ever done this. SO we are knowing this is Jesus doing. In another place we are praying for the rain water to come for the people are dying because there is not rain for many days. Then the rivers are flowing with water and the drums are celebrating and the drums from the mountains close by are coming back from up the streams of water and saying how can there be celebrating when here is no rain and how can there be water in the valley when there is no rain in the valley or the mountain.

But all this and more God is doing to say to this people that his love for them is great but the gift of Jesus for them is greater. And the people are kneeling in the road and the dust and the desert and the cities and the stores and the homes and like me in the restaurants to ask Jesus to fill their hearts and this he is always doing.
I will write to tell you more and ask you many things. But tell those people who have been asking God for us that he is hearing and now we are asking for them to live in this love that is shared opened to us by our Jesus. That he will bring healing to the hearts of your people also. That he will fill them with the wonder of our hearts because his hand reaches out beyond the seeing of man to do more with you than even bravest hearts can dream.

Your friend,

Jamal
Isn't that amazing? Look what God simply does with people who will follow him! We think this life in Christ is rocket science. It is not! It is simply people learning how to trust him in the face of their unfolding circumstances. I'll follow-up tomorrow with two more emails from Jamal tomorrow that takes the story even further…