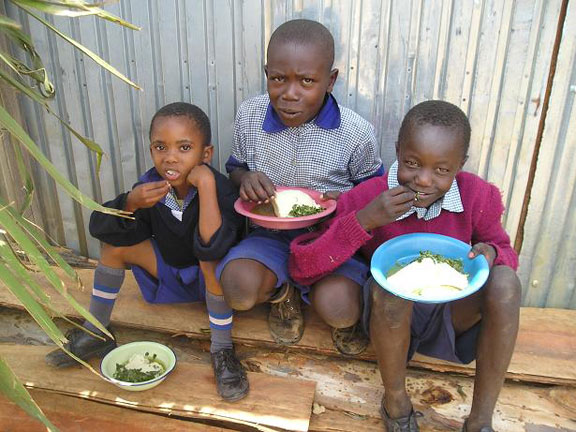 Students sharing a meal at the Living Loved Children's Centre in Eldoret, Kenya
I interrupt The Jesus Lens for a special new bulletin: East Africa has been hit with incredible food shortages this spring and our brothers and sisters there are asking for our prayers and our help. I just wanted to put the word out for prayer and if any of you would like to help with donations, that would be awesome as well. Less than 50 percent of the expected rainfall in East Africa came during this year's long rains from March to May. That resulted in an 80 percent shortfall in crops in East Africa, and now the people are in desperate need of aid. You can read more about it in the Mission Network News.
Last week I received this email from the brother I spent some time with last year in Kenya:
Dear brother in the Lord, we have been so busy in many regions for sharing the loving Gospel to our brothers and sisters. Continue praying for us especially for the orphans in other Centre as well as the widows in the following areas—Mt Elgon, upper and lower Endebes,some parts of Eldoret, Langas as well as Moi's Bridge and north Pokot and Garsen. We are praying and encouraging our brothers and sisters there to contribute something for this people. The maize and the beans have gone to 4500 Kshs. ($50) for a 90 kgs sack and beans 9000ksh ($25) for 90kg. This is so terrible situation.

So, continue praying for millions of Kenyans affected by hunger and drought. Death is being reported in more villages. So, prayers, medication, food is highly needed to save more life, especially widows, orphan,s and disabled. Even the president and our Prime Minister had declared it as a national disaster. In our church in Forkland and Bungoma North, many who have been affected has run for refugee to our churches. More than fifteen families are staying with us. But locally, IGEM members who have ability are now contributing food to help them. Many families are running to our home churches to get a meal. Those who are more affected are HIV widows and HIV orphans and this situation might be continuing into October, 2011. Death is more reported in many places due to hunger.

Michael
Michael, as director of IGEM (International Gospel Equipping Mission) helps facilitate outreaches and equipping for more than 9 million believers throughout East Africa. I have found him to be a man of incredible integrity and immense generosity toward the people God has given him a heart for. He has coordinated our help building the Orphanage in Kitale and his heart is breaking for the immense need in his country. Anything you can give would be of help. As you might imagine, this has also added to the cost of caring for children at the orphanage. They need about $2,800.00 per month to pay the staff and care for the children at the orphanage. We have paid them through June if this year and we're hoping some others will continue to help here. We committed to provide the first two years of help for the orphanage and they are looking for ways to self-fund that going forward. However, with the needs in their country so overwhelming, that may not be possible then.
For more information on our orphanage there, you can read this earlier blog. If you would like to be part of this to support these brothers and sisters and see the Gospel grow in this part of Africa, please see our Sharing With the World page at Lifestream. You can either donate with a credit card there, or you can mail a check to Lifestream Ministries • 1560-1 Newbury Rd #313 • Newbury Park, CA 91320. Or if you prefer, we can take your donation over the phone at (805) 498-7774.