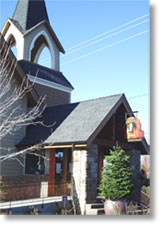 I had lunch at an interesting place today in Eagle, Idaho. As you can see from the photo it looks like a building many Christians use for Sunday morning meetings. Look closely, though and you can see something is amiss. It used to be a clubhouse for the Baptists, but it isn't any longer. Observe the sign in the front that says Rembrandt's. (Yes, I know it is a bit small to read… sorry!) Inside, the entire facility has been converted into an upscale combination coffee shop and art gallery. The food was amazing and the ambiance delightful.
But wait, there's more. A group of believers went together to buy the building, refurbish it and open it as a commercial establishment. But the proceeds from this restaurant/gallery go to support a youth center nearby that is an old converted fire station. Here kids can find tutors, recreation and people who care about them.
What an amazing combination. I was blessed to hear the story and inspired by those who were so proactive about their faith, their generosity with the community and their creative way to finance a youth center that doesn't have to rely on donations.
And this has become one of the most popular eating places in town, with a full parking lot when we arrived at 11:30 on a Thursday. I think I want to nominate this as best use of a previously owned religious establishment for 2005. Any other nominations?