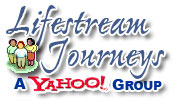 Nancy from Texas posted something in the Lifestream Community the other day that summed up so well what it means to be real in the body of Christ. Nancy said she pulled together various things she had heard from some of my teachings on some of the CD series that she has been listening to. I think she captured it well and wanted to replay it here:
In a combination of her words and mine, this is what it means to Nancy to be real with other people:
It's OK to question what I need to question, ask what I need to ask and struggle where I struggle. I've learned that I am not rewarded for pretending to be better than I am, but that experiencing the life of God means that I am loved through the ups and downs, hurts and joys, and doubts as well as triumphs. Instead of exploiting people's shame or need for approval to try and make them better Christians, I encourage people to go to God for healing and restoration from shame so they can experience for themselves the love of God. Instead of loading others up with a list of `shoulds', I tell people that God is working by "the law of the Spirit of life in Christ Jesus" and his greatest desire is to communicate with them. I talk about learning "how to" listen to God and follow what he puts on their heart even if that means they make a mistake doing so. Instead of trying to change people I urge them to get to know Christ as life because it's so much fun (and far more effective) watching him change them. Instead of manipulating others to do what I think would benefit me and my definition of God's will for them. I'm learning how to trust Christ as my resource for what I need.
I find the simple sharing of His life together with other believers is how I am learning to "be" the church instead of just attending church.
Being real doesn't give permission for people to be rude or obnoxious, to make false accusations or to victimize others with their hurt and pain. But it is the freedom to express themselves as honestly as they can, to ask questions and to follow God's working in their heart. Anyone who has found an environment where this kind of freedom is encouraged—where they are not judged or rejected for being honest, struggling or making mistakes has found a true piece of the body of Christ. Only in an environment of this kind of freedom do we grow.
And if that's the kind of relationships we want then it will also be the kind of friendship we extend to others.