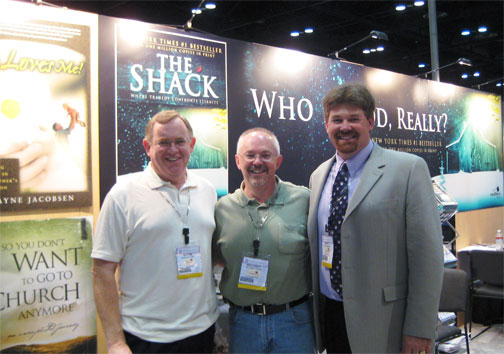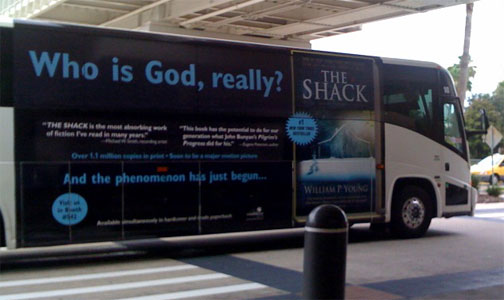 Paul, Brad and I (that's us above by some of our signs, and one of the shuttle buses that ferried people back and forth to their hotels) met some great people at Christian Retailing Convention in Orlando, but those events truly are not my cup of tea, or should I say Diet Coke! We are amazed at how this tidal wave just keeps rising. In the last month weekly sales for THE SHACK have doubled, following on the heels of The Today Show appearance, and articles in TIME Magazine as well as PEOPLE. We had some marvelous opportunities to share THE SHACK story and found people deeply touched by how God brought all of that together.
We met our UK partners and found their enthusiasm for THE SHACK staggering. They recorded a video interview with all three of us for use there. Also THE SHACK has been featured in a number of news reports on the BBC which has surprised folks there since they never talk about books with Christian themes.
And my two titles continue to grow, reaching an entirely new audience. At a book signing I did for HE LOVES ME, I was approached by a key book buyer from Barnes and Noble, who said she'd just ordered enough of my two titles to drive them to the front of the store. Wow! Who would have thought?
I don't know when it's harder to write entries these days, on the road or at home. I come home to a way too full inbox. My books are just soaring now on the draft of THE SHACK and that has brought all kinds of new people to my email, phone line and front door! I still haven't worked out how I'm going to handle all of this, but for the time being I've got a new helper around the office. Jessica completed her summer with us and departed for a family vacation. My incredible wife Sara has stepped in to help us get through this time. She has taken a leave of absence from her counseling job at a local high school and will take over a lot of my daily duties at Lifestream, to give me more time to write and deal with other realities at Windblown Media.
I am really excited about our working together through the next year. She will be handling a lot of details around here, but please know if you're talking with her, it's the same as talking with me. Some folks would say it's even better!
One final note. We also heard from our brothers and sisters in Kenya who are still in need. Food prices have hit the roof and they are still caring for families that were displaced in the violence and have no home to return to. Every dime sent to us will go directly to those who need it. If God puts it on your heart to send something, please go to our Invoice Page and click on the 'Pay Invoice' button. You can then list "Donation for Kenya" and the amount you'd like to give. If you use the 'Donation' button you will need to also send me an email letting me know you wanted this to go for Kenya and not for Lifestream. All donations to this cause are tax deductible. Or, if you prefer, you can also send a check to Lifestream • 7228 University Dr. • Moorpark, CA 93021.