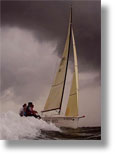 A quote making the rounds today is sure a good one. As far as I know, no one has been able to ascertain who first wrote or spoke this:
"Life shouldn't be a journey to the grave with the intention of arriving safely in a pretty and well preserved body, but rather, to skid in broadside, thoroughly used up, totally worn out, and loudly shouting…."Wow! What a ride! Thank You Lord!!!"
As long as we're not talking about the burn-out due to human effort trying to accomplish God's will, I embrace this point of view whole-heartedly. Whoever said life was about staying safe—doing only what serves my needs for comfort or convenience? What fun is that? This is an adventure with our older brother Jesus, as the kingdom of God makes itself known before the kingdoms of this world. Who wants to be on the sidelines watching that?
As I write this I have just been informed of a dear friend of mine who was airlifted out of a rural area to a hospital in New Guinea yesterday with a rampant infection in his left leg and a severe case of malaria in his lungs. This man is in his 60's and could stay home with his children and grandchildren, but instead spends months at a time in some of the most difficult countries of our world to help people there live outside the box of organized religion. He's in the game! Yes, he could be safer, but he couldn't be freer! His name is Bob and I would invite you topray for him as God brings him to your mind.
One of the men who helped me write the current BodyLife article on the Tree of Life, sent this to following to me. He lives on Vancouver Island and does a bit of sailing. It resonated with my heart, and I wanted to pass it along to you:
This is an awesome journey but it often seems like launching into uncharted waters. Certainly ones beyond my knowledge and ability to navigate. Still "a ship is safe in harbor but that is not what ships are built for" Oceans of His love whilst perfectly safe for His children are at the same time wild, deep and untamed. Sometimes my heats quails as I am plunged with His wild abandon into the depths. He is so supremely confident in His ability and I am often brought to pause and gasp as He invites me along for the careening slalom ride down the mountainous waves and then eventually back up to the crests for a surfing experience. I am glad that there is a place of shelter as well as wild abandon in his heart. Is there an urgency in his voice these days or am I simply hearing His joyous cry as the ages draw closer to their end? I am not always sure but I am more and more sure of His amazing love and so in a way it doesn't matter.