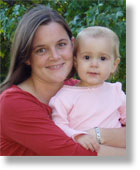 The best personal assistant I've ever had in my office, won't return today. Julie Williams, my deeply loved daughter and the one who has filled all the book orders and kept the place organized for the last two years is retiring. Actually, she is great with child, and in another month or so, I'm going to pick up another granddaughter that will bring great joy around here. So that will be awesome!
If any of you dealt with Julie while she worked here, you will realize how grossly overqualified she was to do what she did for us. She did it for some extra spending money and to help out around here. She could also bring her daughter to play with grandpa while she worked. It was perfect! And now, it's over and I'll admit to being a bit sad but that's only because of what an awesome gift she was while she was here. She did more in her eight hours a week here than most would do in twenty and tracked so many things that for the time being will fall back into my portfolio! Drats!
I will miss her sorely in months to come, not just for the work she did but the extra Father-daughter time that allowed us and the wisdom she brought to so many of the projects we worked on here. She helped with The Shack and the new edition of He Loves Me. She helped me make decisions about so many things. What an awesome young woman! I couldn't be more pleased at how she lives her life, and am incredibly blessed to be her father and her friend. Of course we'll see a lot of her around here still. (Babysitting will become more important I suspect with a second.)
But I have no idea how to replace her. Since my office is in my home, it isn't easy just to hire someone from outside. I'm sure Jesus has a solution, but I don't see it yet. So in the meantime, I'll be picking up her workload, which may mean things will have to wait a bit longer to get done.
But I wouldn't have traded the last two years for anything. Thank you, Julie! You were a great blessing to me and so many others. May you know great joys ahead loving your husband, raising your two young girls and everything else that Father calls you to do. And, besides, I'd rather be your father than your boss any day! But if you miss those book orders someday, you'll be welcome back any time…