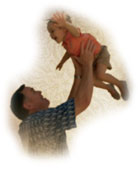 I was in an internet exchange the other day where someone asked, "Do we meet God's standards of love? If not, what can we do to improve?"
I know many people who wonder about that because religion has taught us to see love as a command, not as a reality. I used to look at love as a standard we have to live up to. It was exhausting, it didn't work, and I've come to believe that love isn't a standard we need to achieve at all. I'm convinced love is a reality for us to live in. It is the reality that totally defines the God we're coming to know. He is love, and he responds in love to us. I am convinced the descriptors of love in I Corinthians 13 are not the Ten Commandments of the New Testament telling us how we should act, but a description of God's love, both as it flows from his heart and in our freedom as we live in that love.
Otherwise we're just reduced to actors, trying to follow a script God wrote. He invited us into a relationship of love that would transform us. As I grow to know his, I grow in finding love in my heart for others. I don't conjure it up. I don't pretend to have it. When it's there I can live out of that love. When it's not, I go running to him, sit at his feet, and ask him to teach me more of his love and pray that it will win more of my heart. This has been a fifteen-year journey for me and I feel as if I'm only scratching the surface. But it works. As I relax into the reality of his love I find love in my heart for others, even when they are being spiteful toward me.
So I see love now as a journey. It begins in him, and he invites me into its flow. Little by little, one day at a time, I'm learning to live in that reality. Where I do, my heart is at peace and some wonderful fruit gets borne for others. Where I don't, I get worn out, self-focused, and anxious. As I sit here today I see the ocean of God's love as the world's greatest resort, and there is no better place to live, and that doesn't require one thing to change in my life except to grow in the reality of his love. But I truly want nothing else. No other trinket or ambition in this world compares to it.
But I'll grant you the learning curve is fairly steep for those of us who found it easier to live as if we weren't loved.