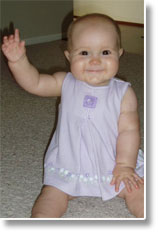 At 12:40 past midnight tonight, I will leave LAX and head for South Africa. After a brief stop in Atlanta, I will continue on an 18 hour flight to Johannesburg, then connect for a short flight out to Durban. I hate these long flights, but am looking forward to my time among the people of South Africa. In addition to teaching at the YWAM school in Durban, I will also be meeting with believers in Pietermaritzburg, Ladysmith, Johannesburg and Pretoria. It should be a fascinating journey. I've never been to the continent of Africa before and am excited about this opportunity. Please keep me in your prayers if you think about it.
So today is a day of preparation and good-byes. I'll be gone almost 3 weeks and since Sara isn't going I'll miss her terribly. I just had some Aimee time in today. My daughter brought over my only grandchild to say good-bye. We had a great time playing on the floor. She's very expressive these days and spending time with both of them is one of the great joys in my life. That's her on the left. She is eight months old today.
Also today is my father's 80th birthday. He doesn't like to make a big deal of such things, but he's the best. If you want to read the greeting I sent him, you can find it here.
It's on days like this that I'm reminded the best joys in this life are the simplest ones. The family I leave here is a sheer delight, as I'm sure will be the extended family I'll be spending time with in South Africa. So hug your spouse and kids a bit tighter tonight and let them know how much you cherish them.
I'll try to put in some updates as I travel about South Africa, but am never sure on the road how much time I'll get for that. If you want to get your orders for books and CDs serviced faster, it will help to send them directly to the office at our new office email: office@lifestream.org.