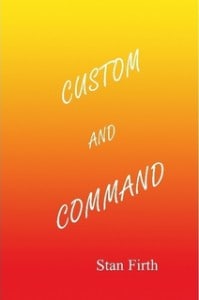 Custom and Command
By Stan Firth
$2.84 (Paperback – 88 pages)
This book is not available here, but you can find it at Lulu.com. If you are not in the United States, there are International Distributors, (listed below the book on the left) that also have this book.
Book Description
If you don't know of Stan Firth, he has also written an inspiring book that many of you will enjoy, called who wrote the foreword to A God-Filled Nobody has written a delightful and inspiring book, Custom and Command.
Many believers around the world have found both comfort and challenge through this book as he considers whether 21st Century expressions of Christianity are simply the custom we've adopted or whether they are what Jesus commanded us to do. Custom and Command brings encouragement from the Scriptures to a new breed of Christians – with some answers to those who might feel critical of them.
Overseas Distributors
In the United Kingdom:
Stan Firth
c/o 2c, Gander Green Lane
Sutton, Surrey
SM1 2EH
Email John
In the Republic of Ireland:
David Rice
"Four Seasons" Ballylusk
Ashford, Co Wicklow
IRELAND
Email David
In New Zealand:
John Beaumont
27/472 Linwood Ave
Christchurch, 8006 NEW ZEALAND
Email John
In South Africa:
Guy Dennison
38 Eland Road
ROBINHILLS 2194 South Africa
(011) 793-7924 Email Guy
In Australia:
Bruce Kerr
34 Highview Avenue
Nambour, Queensland
4560, AUSTRALIA
Email Bruce
   or
   Paul Hudson PO Box 740
Brisbane, Queensland
AUSTRALIA
Email Paul
Also in the United States
In the United States:
Wally Duguid
PO Box 592
Shakopee, MN 55379
Email Wally