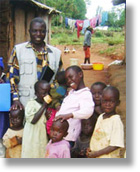 The life of God continues to be shared through the people I met with in Kenya. A recent report from Michael about the love of God growing among them and that they are increasingly shifting from large-group lectures, to small-group conversations to help people truly learn to live loved and not just hear sermons about it. I'm really blessed with this change.
Here's some of what Michael wrote me this week:
"Pokea salamu katika jina la yesu kristo" I have quoted this in Swahili which means; receive much greeting in the name of Jesus Christ. I was out for the living loved training conference, in the conference I saw the holy spirit doing marvelous in the heart of people. Traditional power and doctrine of men is being broken, I have never seen this before, but the Holy Spirit it is in the work. I believe God is having good plan in Africa. The vehicle is now in the good condition and the driver had brought it back to the centre.

May the lord bless you for being much concern. I believe we would reach many parts of Africa.

Another surprise that God is speaking in the hearts of people here towards the children orphans in the centre, one lady and her family has given milking cow freely to help the children. Other people also they have given the two sheep and one goat. (See picture below) Actually God is changing the heart of our people, despite of difficulties that they are passing through, they can do something. This breaks my heart for what God is doing.

This the picture along with the brothers to receive the cow, sheep and the goat. Another thing, I would like to remind you, that the money you supported us, it covered July unto August, so the food is urgently needed at the end of the next week. It is our prayer that God will provide for September and October, we have tried to minimize the budget although the price of food is rising. The teachers have done good work for the children. They have been working even during the night so that the children may completely catch up.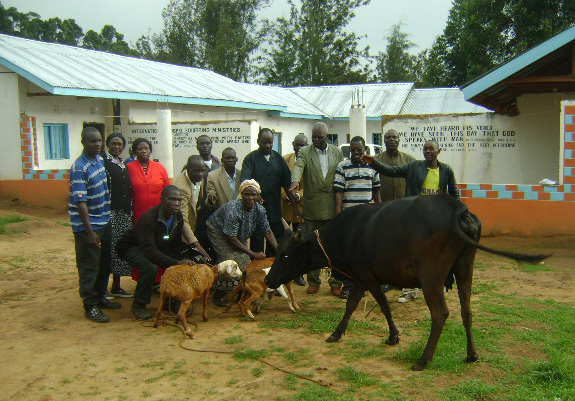 Donations to help feed the children
We appreciate so much those of you who have already helped us here. If any of you would like to give to one of these needs, or simply find out more about our ongoing touch with these dear brothers and sisters in Kenya, you can read this earlier blog or see our Sharing With the World page at Lifestream. You can either donate with a credit card there, or you can mail a check to Lifestream Ministries • 1560-1 Newbury Rd #313 • Newbury Park, CA 91320. Or if you prefer, we can take your donation over the phone at (805) 498-7774.
Thank you for your love, prayers, and concern for these dear people.