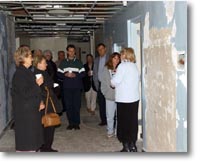 I just got back from Kansas and a week with New Jerusalem Mission which is spearheading the conversion of a hospital into a care facility for the homeless and for those afflicted with HIV/AIDs. How this came to be is the an incredible story about a woman loving her ex-husband through his death with AIDs, that I told on the opening segment of a recent podcast. I also told her story in the book He Loves Me. That's Penny Dugan in the picture leading some people through the hopsital. This work is a special grace by those thinking outside the box of organized religion, but also working alongside all kinds of Christians to provide a compassionate outreach for those who need it so much.
The cost of their operations and refurbishing the hospital are significant. I'm talking in the 100s of thousands of dollars. This is completely a faith venture on their part and you won't believe what they've already accomplished just by doing every day what God puts before them. If any of you have some extra money that you're looking to give to help extend the gospel in a dark corner of our world, please give this some consideration and prayer. If you know any groups looking for a week or a few days of a 'missions project' right here in the heartland of the U.S., consider this. And if you know of friends or foundations looking to give to projects like this, please let them know too.
Every gift is put into the work by people who come from all over the world at their own expense to work in this ministry. I don't know of a project I could recommend more highly to you than this one. These are people thoroughly dispensing the gospel of grace to people often overlooked and outcast in our culture. So many of them over the years have come to their own personal faith as well.
This isn't just a hospital for Kansas, but a national center to help care for those with HIV/AIDs with no where else to turn. And it isn't just a ministry for the U.S. This team travels around the world to help encourage and equip others on the front lines of HIV/AIDs care. I was with them in South Africa last summer and some of them recently returned from China.
If you would like more information about their work, you can contact me and I will put you in touch with them. You can send contributions to Lifestream if you want, made out to "New Jerusalem Missions" and we will send them along. Unfortunately they do not have a website at the moment, but I can vouch for their integrity, passion and mission and they would love to be in touch with you if you want further information about their work or bringing a team to help in the refurbishing. You can find out more at their New Jerusalem Mission website.
We do things like this very rarely. I hope you don't mind. Thanks for giving this your prayer and consideration.