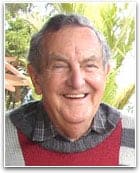 Sara and Wayne met Jack Gray during my New Zealand trip in the summer of 2004. Born in Scotland and trained as a surgeon, Jack and his wife Margaret spent thirteen years doing medical missionary work in the Belgian Congo (now Zaire) before the revolution in the early 1960s. In private practice after that first in the north of England and then since 1972 in New Zealand, Jack remained a passionate believer and an effective leader in the congregations he attended. But something stirred deeper in his heart. His passion for God's reality eventually convinced him that God had greater things in mind for church life than he had previous experienced. That began a journey that Jack chronicles in three booklets below.
Now in his 80's Jack and Margaret have retired to the western coast of the North Island of New Zealand near Auckland. Jack has allowed us to make his booklets available as downloadable pdf files free of charge to any who would like them.
Jack now has his own website: The Pilgrim Path
Read Article by Jack on Hebrews 10:25 on Wayne's Blog
Below are excerpts from Jack's articles. You can download the full article as a PDF.

My Search For the Church (Part 1)
Here Jack Chronicles his search "for a manifestation of Church that would reflect what I had read in the New Testament about it" as God challenged his preconceptions about church and stretched him to live differently.
Excerpts
"I felt the Spirit say that church life as I had known it was to go to the Cross, to die, totally expire and be buried. Then, and only then would God give us new resurrection life, which He so desires us to have. There would be no new wine church life until the old had completely run out. I saw that our fiercest temptation also concerns going to the Cross. We will protest, like Peter, very religiously and very spiritually, 'God forbid, Lord, that will never happen to our church or our fellowship. Put our beloved programs and projects to the Cross; do to death our wonderful charismatic services; let our music and drama groups die, and our teaching times expire? Never! Don't you know, Lord, they are all about you.' And I heard the Lord say, 'Get behind me. You are a hindrance to me.'"

"These days marked the greatest transition of my life as a Christian, a beginning of the dying out to church as I had known it, to allow God to reveal Church as He would have it. That death has not been sudden and clean, but slow, sometimes painful and progressive. The religious habits of a lifetimeand the mind-set of years do not expire easily. The months that followed were not easy, but we constantly received encouragement from the Lord in various remarkable ways, and over the past three and a half years we have been coming to a new understanding and experience of the Body of Christ. What we perceive as yet dimly, and what we are experiencing encourage us not to look back, but to press on."
Download PDF
Looking For the City (Part 2)
Jack's journey continues as he shares what he has learned about the church that God is building and how he now lives in that reality every day.
Excerpt:
"No longer am I a member of any religious organisation. My name is on no church roll here on earth. I do not "go to church." I have no Minister or Pastor in the official sense, and church services, for me, are a thing of the past. How then, you may well ask, can I profess a longing forthe Church ? What is my relationship to the Church ? My answer would be that I believe I am now more in the Church than I have ever been, and for this position I have sound New Testament confirmation."
Download PDF
Jacob & His Long Road Home
Using the story of Jacob, Jack illustrates important lessons to help people on the journey of moving from the bondage of organized religion to the freedom of living in Father's family.
Excerpt:
"So, here is this man of divine destiny, who should have been God's freeman, in a situation of bondage and frustrating service, a man who was destined for the full privileges of sonship reduced to a paid servant.As I pondered these things recently, I received some insights which I believe to be of the Lord. Jacob represents the believer in the institutional church, or, if you like, the collective of believers in those organisations. Those who were redeemed for freedom and sonship are in a situation of servitude to denominational systems, programs, organisations, ministries, and many, like Jacob, are finding it frustrating, exhausting and unfulfilling. The church system can be just as ruthless an exploiter of labour as the cunning Laban!"
Download PDF