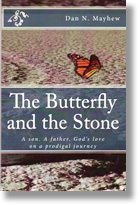 Sara and I are off to North Carolina in the morning, for a weekend retreat and then a special gathering with fellow-travelers in Charlotte on Sunday night. I thought I would leave you with this before I go:
I don't often say this about a book, but I will this time. If you are the parent of a child who seems like a prodigal to you, wandering in a far off place from God, go get this book! But even if you don't have such a child, go get this book! It is a powerful read of a father's love for a rebellious son. If you're experiencing anything similar his journey will surely encourage your own. But it is more than that. It unveils the relentless love of the Father for all of us as he continues to seek us out in the places we get lost and restore us in his grace and mercy.
I talked more about this book on last week's podcast if you want to hear it. It is toward the end. This book is an engaging read. Remarkably well-written, honest, and vulnerable this book describes the ongoing pain of having a child wander far from the faith of his father, and a father's love that keeps believing the best in the face of such brokenness. And through it all he discovers a depth of God's love for himself in his wandering moments.
In addition, Dan is a friend and has been for 15 years or so. But that's not why I'm recommending his book as many of my other friends might attest. For me to recommend a book here, I have to be convinced that it is a really good read and that a many of you will find this book helpful for your own spiritual journey. This is all that and more. It is deeply touching and wonderfully encouraging, even though they story has not yet ended. There is a spirit of triumph in it, even though Dan's son is still sorting through the damage in his life from alcohol and PTSD from his service in Iraq.
This book is not available in stores, but you can order it from Amazon.com or from other online retailers.
Here is some added info from the back of the book:
Hope is a butterfly
Fear is a stone
As the father waits
For his son to come home.

For anyone who has loved a prodigal child, here is a voice in the night that says you are not alone. 'The Butterfly and the Stone' is a story of fear and hope on a journey that leads from the safety of home to Iraq, and home again to face a fiercer enemy: post-traumatic stress and addiction. Woven throughout is God's love… found in a most unexpected place…
You can find out more at Dan's website, StoneButterfly.net.