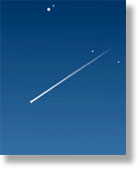 A couple of months ago I wrote a post about watching the International Space Station and Space Shuttle arch across the sky. Well, for those in the Southern California area the next three nights offer very similar views. It will appear as a bright light moving from west to east and brighter than any star and moves quite rapidly arching from horizon to horizon in about three minutes.
There's a great pass on Saturday evening between 8:05 PM and 8:08 PM (depending on your location, the times might be slightly different).
There's another pass on Sunday evening, from 8:30 PM to 8:33 PM.
And another on Monday, 7:19 PM to 7:24 PM.
For details you can visit, visit http://www.heavens-above.com/